Powering Pacific Green Growth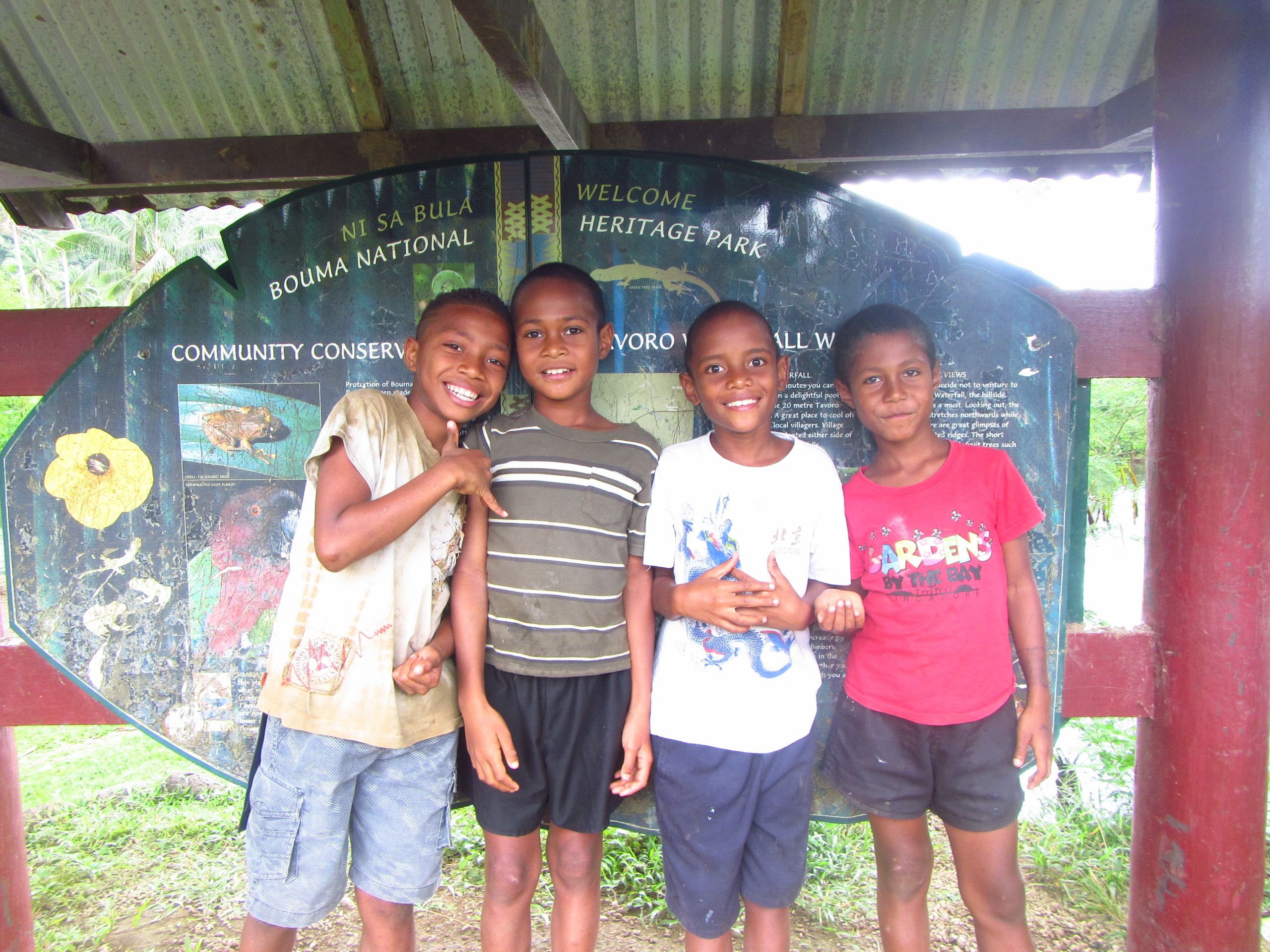 The Pacific region is home to fourteen Small Island Developing States (SIDS) connected across 30 million square kilometers of ocean, equivalent to 15 percent of the Earth's surface. The islands are highly diverse, each unique in its land, geography and culture. Populations on the islands are especially varied; while the region is home to over 10 million people, some countries are far bigger than others, for example, Papua New Guinea has 8 million people, whereas the tiny island nations of Tuvalu and Nauru only have respectively 13,600 and 11,000 people.
Thanks to tropical climates, sandy beaches, and vibrant cultures, Pacific SIDS are benefiting from a burgeoning tourism industry. Economies are also benefitting from the growing service sector. At the same time, however, sustainably managing and consuming natural resources – for example, minerals, fisheries, and forestry, which are also the regions' primary export industries – will foster economic growth.
Although they emit a very small amount of greenhouse gases (GHGs), Pacific SIDS are some of the countries hardest hit by  the impacts of climate change. They are not only losing biodiversity and ecosystem services, but rising sea levels and more frequent severe weather events threaten communities' survival. With communities, agricultural lands, and infrastructure concentrated in low-lying coastal areas, people are understandably concerned about impacts on public health, food security, livelihoods, and cultural heritage.
Despite these challenges, Pacific SIDS have shown leadership in combating climate change and encouraging world leaders to accelerate climate action and increase availability of technical and financial support for adaptation efforts. Since the Paris Agreement in 2015, Pacific SIDS have led by example, with their 2030 Agenda to achieve the Sustainable Development Goals (SDGs) and driving the SIDS Accelerated Modalities of Action (SAMOA Pathway). Fiji's Presidency of the 23rd Conference of the Parties (COP) under the UN Framework Convention on Climate Change  (UNFCCC) in Bonn, Germany elevated the SIDS agenda even further by putting it on the international stage.
During COP23, the Regional Pacific NDC Hub was announced as a way to support Pacific countries to realize their Nationally Determined Contributions (NDCs).  The Hub will provide valuable expertise so that countries can develop mitigation and adaptation solutions to meet their NDC targets. As a collaborative effort between Pacific SIDS, the Deutsche Gesellschaft für Internationale Zusammenarbeit GmbH (GIZ), the Global Green Growth Institute (GGGI), the Pacific Community (SPC), the Secretariat for the Pacific Regional Environment Programme (SPREP), and the NDC Global Partnership, the Hub is funded by the United Kingdom, New Zealand, Australia, and Germany.
In 2018, Pacific leaders also endorsed the Boe Declaration on Regional Security, emphasizing the urgency and serious nature of climate change. The Marshall Islands, as the current Chair of the Climate Vulnerable Forum (CVF), became the first country to submit its 2nd Nationally Determined Contribution (NDC) before the 24th COP in Katowice, Poland. Their NDC committed to more binding targets for deeper emissions cuts, signaling for other parties to follow suit by 2020. At the same time, both Fiji and the Marshall Islands submitted Long-Term Low Emission Development Strategies to the UNFCCC laying out their plans to reach zero emissions by 2050.
While Pacific SIDS have shown strong leadership on climate change, a lack of financial resources has affected their ability to respond to and reduce their climate risks. They also face significant financial burdens, as well as loss of GDP, from extreme weather conditions, which can require borrowing funds to cover adaptation and recovery efforts. For instance, a sea-level rise of 1.7 meters could cost up to 15 percent of the region's total  gross domestic product (GDP) from lost revenues in primary production and important industries like tourism, as well as reconstruction costs. Climate related events also have considerable costs; in 2016, Cyclone Winston alone caused 30% loss in GDP for Fiji.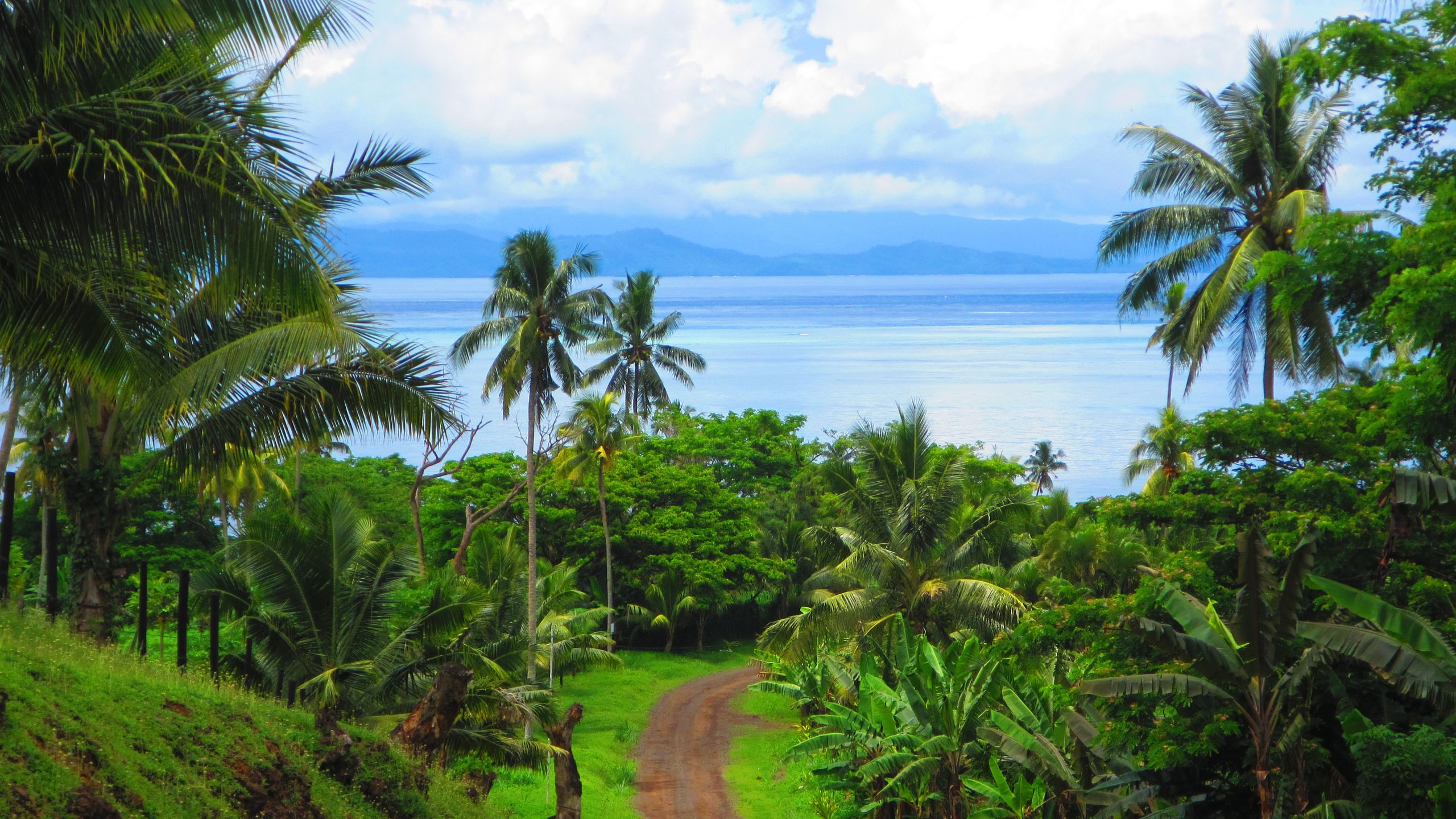 Access to reliable, clean, and affordable energy is also a widespread issue across Pacific SIDS. Energy access is critical in achieving sustainable development and green growth. Without it, individuals and communities find it harder to participate in activities that foster socio-economic development and increase their living standards. Cyclones and storm-induced floods have compounded energy problems by limiting energy network expansion in many ways. For example, extreme weather events often result in funding for electrification being diverted to recovery efforts, damage to transmission and distribution networks, and disruption to power plants and fuel deliveries to islands.
In 2014, the overall electrification rate across the Pacific reached only 36.3 percent. Today, the rural electrification rate rests at 43.6 percent. However, these rates are skewed significantly by a large unelectrified population in Papua New Guinea. Rural communities without electricity have little choice but to consume fossil fuels and traditional energy supplies, like fuelwood. The Federated States of Micronesia, Kiribati, Papua New Guinea, and Solomon Islands have recorded declines in their urban electrification rates because of growing populations and rapid urbanization. Generally, the electricity access gap between urban and rural areas has remained the same.  Progress is being made in countries like Fiji, Marshall Islands, Samoa, Tonga and Cook Islands, which have advanced towards achieving near-universal, or, in some cases universal, electricity access.
Imported fuels are still the most common commercial energy source in the region, particularly for the maritime and land transport sectors.  Oil imports take up as much as a quarter of many Pacific SIDS GDPs.  The high cost of imported fuels, the long supply chains to reach islands, and outdated and inefficient power infrastructure drive countries to impose either high electricity tariffs or use public funds for expensive subsidies to the consumer to keep electricity affordable.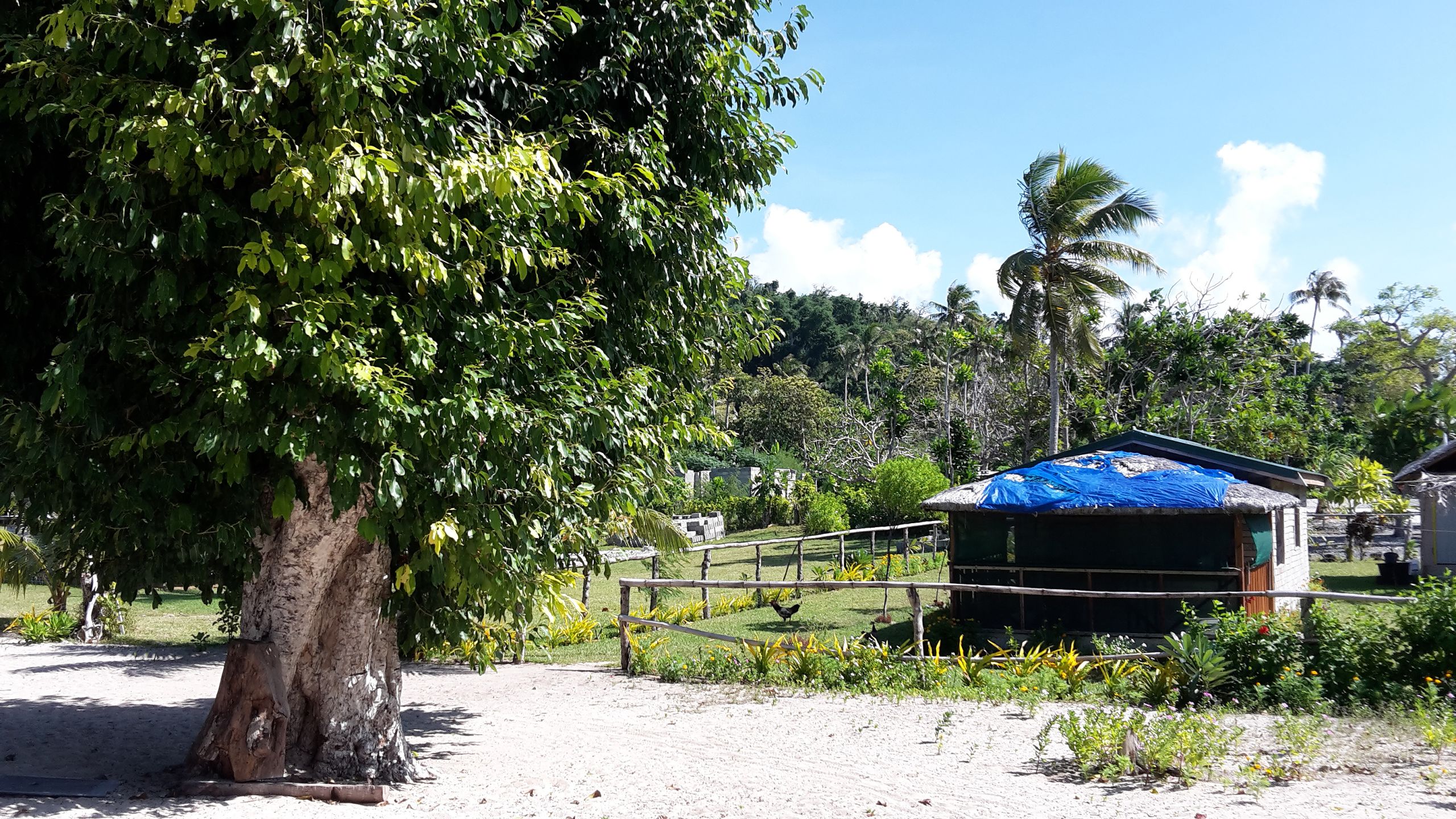 While Pacific SIDS have relied on fossil fuels for a long time, they are rich in renewable energy (RE) resources including hydropower, geothermal, solar, and wind. As RE resources have the potential to boost local economies and enhance quality of life, Pacific SIDS leaders have prioritized renewable energy development as a critical issue to national and regional growth and also to the global response to climate change. In 2014, RE accounted for 36.5 percent of the energy mix throughout the region, with the majority of this coming from traditional biomass sources.
Recognizing the potential for RE in the region, donor countries, the private sector, and development organizations, including GGGI, GIZ, the Asian Development Bank (ADB), the World Bank, and the UN Development Program (UNDP), have come together to support the expansion of renewables in the Pacific. By partnering with Pacific governments to harness RE, the aim is to apply sustainable development strategies that support both the environment and the economy.
GGGI assists its Pacific Member Countries – Fiji, Vanuatu, Kiribati, Papua New Guinea, and Tonga – in pursuing a socially inclusive green growth approach that promotes low carbon development and enhances resilience to climate change and natural disasters. Working with Member Countries also means supporting efforts to strengthen their energy security and reduce their dependence on fossil fuels. Most recently, GGGI published the NDC Implementation Roadmap Development guidelines to support SIDS in realizing their NDCs under the Paris Agreement. In 2018, GGGI and the Pacific Centre for Renewable Energy and Energy Efficiency (PCREEE) jointly rolled out the Greenpreneurs Program in Fiji, Vanuatu, and Kiribati to cultivate new local businesses and help them address environmental and social issues through their business models. The program launches  were followed by publication of green entrepreneurship guidelines for Fiji, Kiribati and Vanuatu.
ADB has been promoting growth and prosperity in fourteen Pacific SIDS for almost half a century. ADB's current energy projects are worth USD426 million, and are likely to increase to over USD1 billion by 2021. In addition to this energy funding, ADB also promotes legal reforms in the Pacific that encourage private sector investment to improve the quality and availability of clean, affordable, and sustainable energy.
Likewise, the World Bank is helping Pacific governments to reach their ambitious RE targets, with various energy initiatives across twelve countries. For example, the Tuvalu Energy Sector Development Project aims to achieve 40 percent RE in Tuvalu by 2019. Another grid-connected solar energy project in Kiribati is saving as much as USD290,000 per year.
The UNDP Pacific Office in Fiji serves fourteen countries to advance the Global 2030 Agenda and help countries to meet the SDGs, including Affordable and Clean Energy. UNDP has supported Palau to adopt two key policy measures – the National Energy and Policy Action Plan and the Renewable Energy Funding Window.
Since 1977, GIZ has worked in the Pacific region to address the challenges created by climate change. Currently, GIZ is advising nine countries on the expansion of RE. Across these countries, more than 60 solar and biogas plants will supply some  8,500 people with green energy by the end of 2020.
Pacific SIDS continue to emphasize their need for renewable and clean energy, which will boost access to energy, promote energy efficiency, and reduce reliance on imported fuels. These countries have developed comprehensive energy plans and are working with national and international partners to finance energy strategies that, once implemented, will benefit everyone.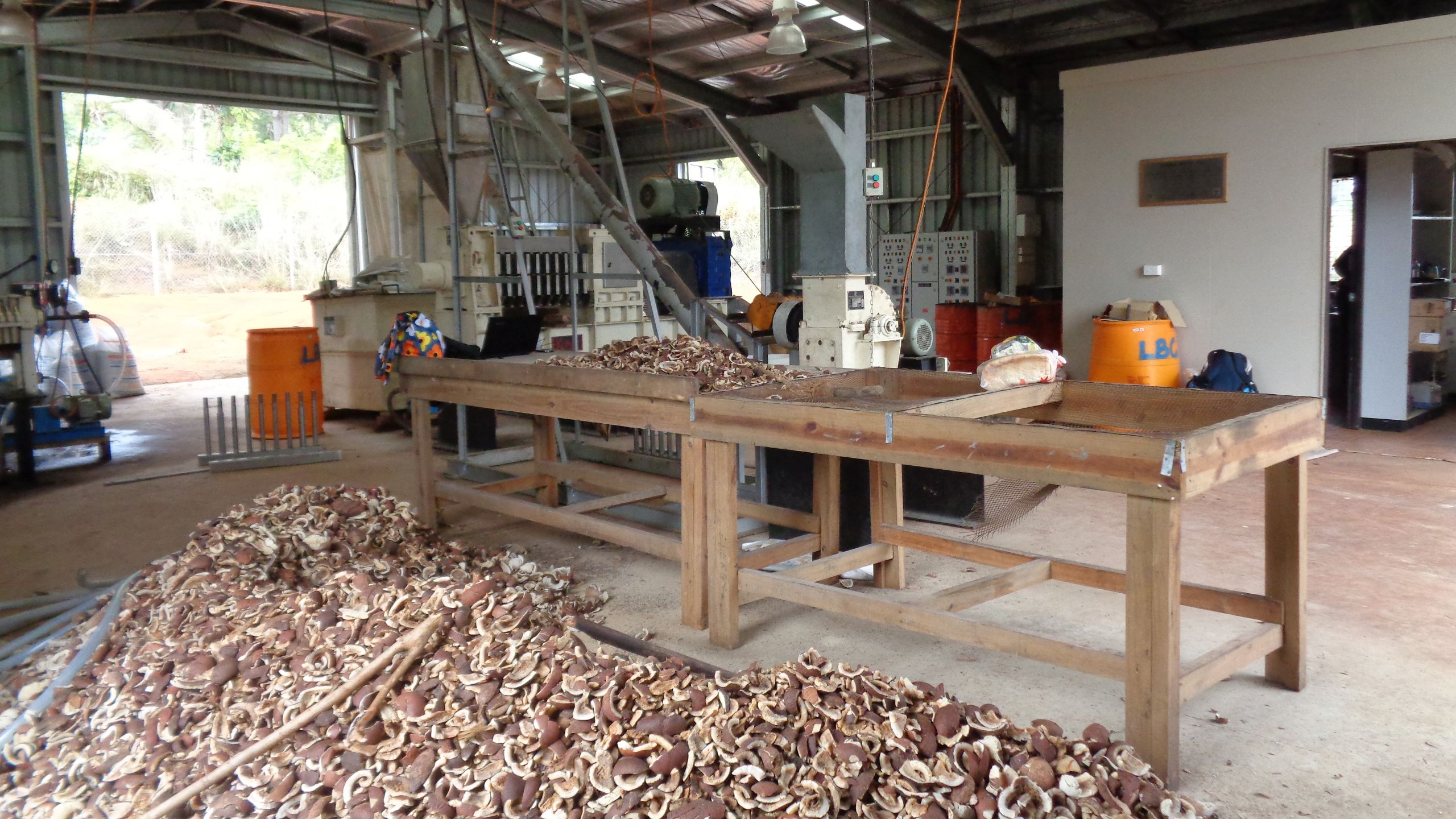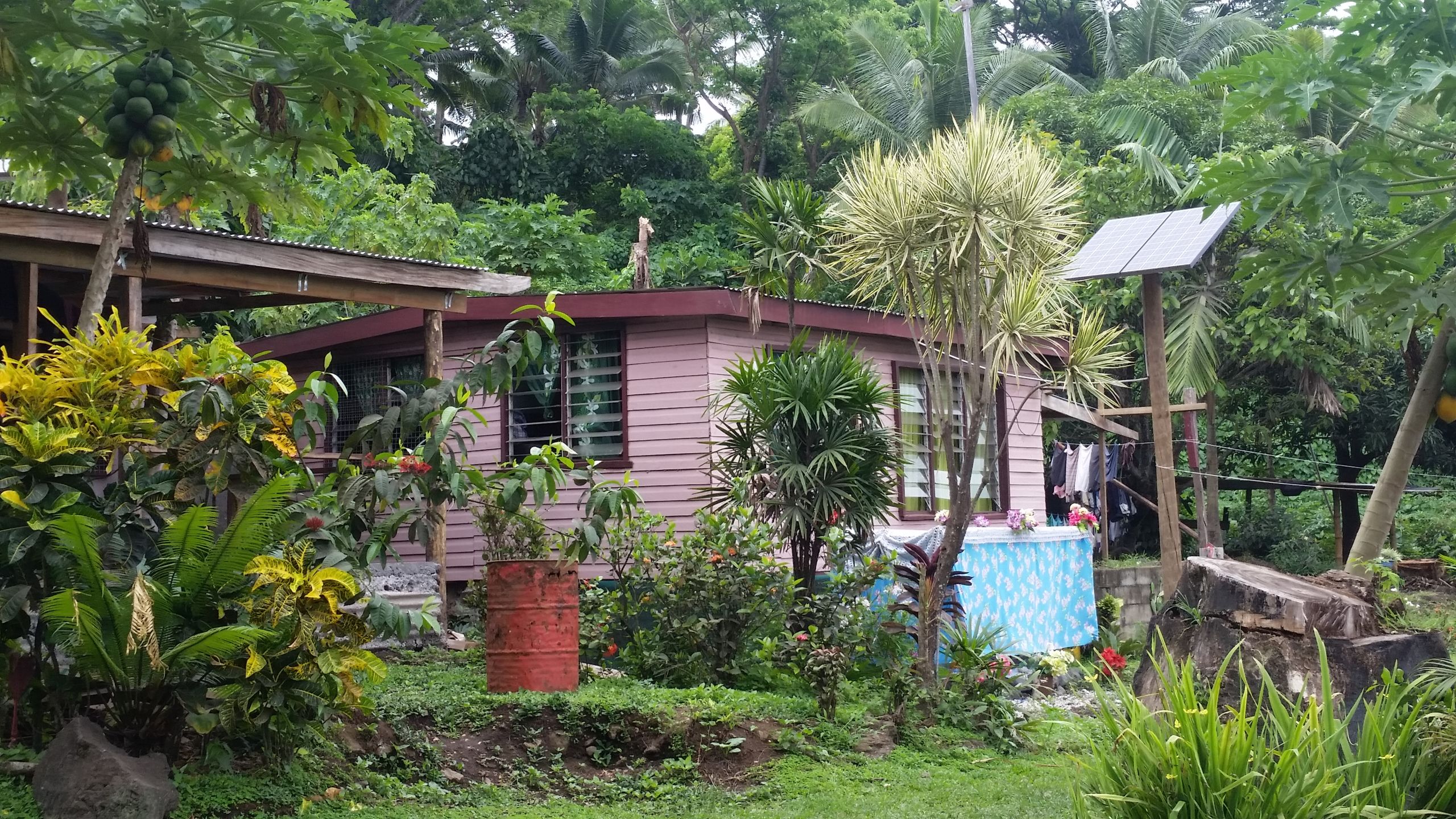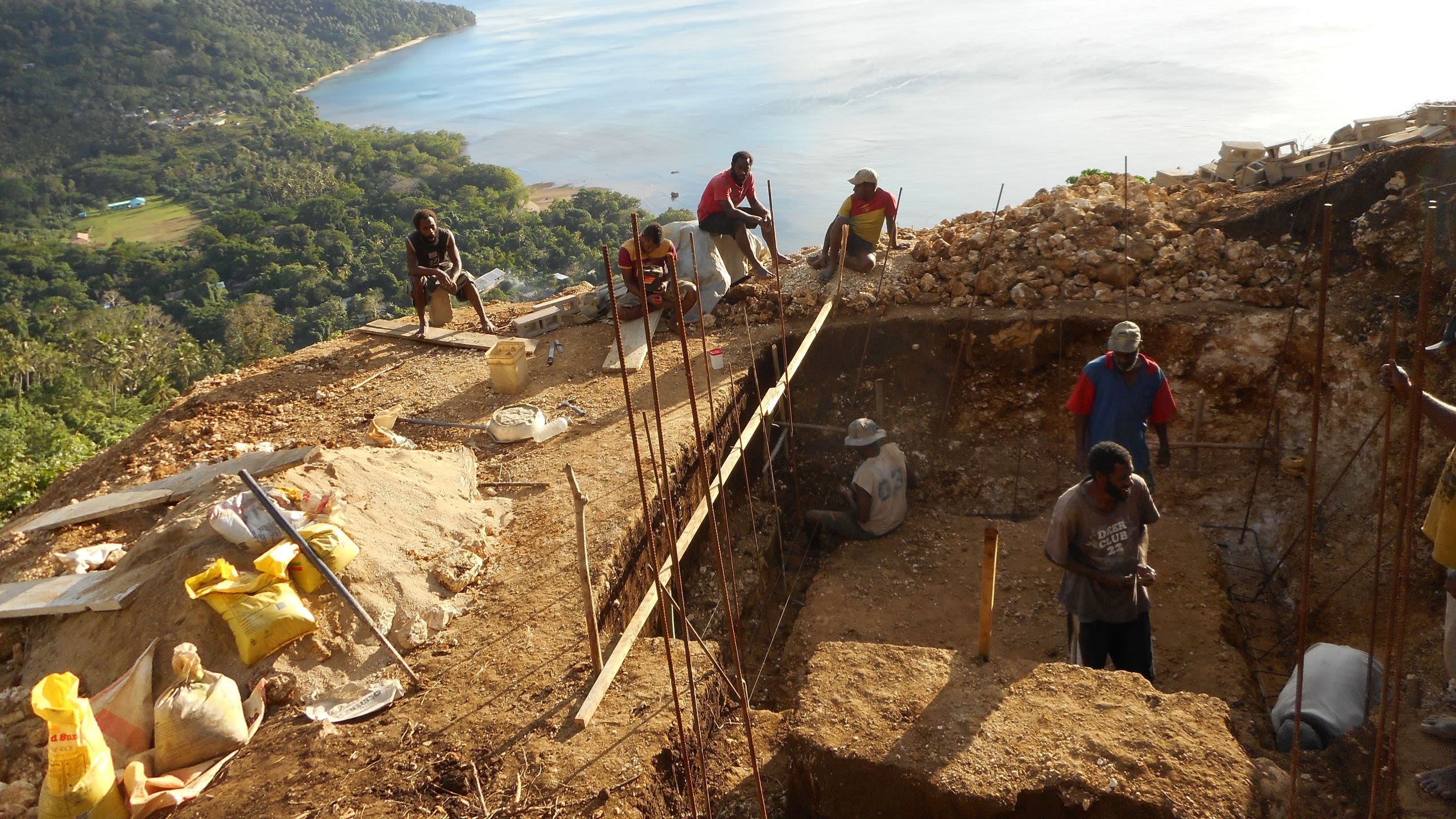 Toward A Sustainable Fiji
Fiji is a SIDS made up of over 300 islands. The majority of Fiji's population of 900,000 people live in urban centers, such as Lautoka, Nadi, and the capital, Suva, located on the coasts of Viti Levu, one of the country's two major islands.
With a wealth of natural resources, Fiji is one of the most developed countries in the Pacific, boasting high-quality infrastructure and a robust economy based largely on tourism and agriculture.
Tourism makes up 18 percent of Fiji's average GDP and is growing around 10 percent per year. Roughly 45,000 Fijians are directly or indirectly employed in tourism.  Overall, Fiji's economy was expected to grow by 3.2 percent in 2018, marking nine years of continued growth. Wholesale and retail, trade, construction, accommodation, and food services have all contributed to the country's strong economic growth.
Fiji is committed to pursuing sustainable development and has been a strong leader in international climate change negotiations. In 2016, Fiji was the first country to ratify the Paris Agreement and, in 2017, it was the first-ever Pacific Island Country to chair the UNFCCC. Fiji was also one of the first countries to develop an NDC Implementation Roadmap to guide climate change action. And, in their latest step towards sustainable development, Fiji launched its 2050 Low Emission Development Strategy at COP24 in 2018, only the 11th such strategy worldwide to be submitted to the UNFCCC and the 2nd by a SIDS.
Despite Fiji's recent economic growth, the country also faces several major challenges, including rapid urbanization and the impacts of climate change. In 2017, the urban population was 55.7 percent, compared to 34 percent in 1968. This urbanization has resulted in a substantial growth in carbon emissions; between 1960 and 2014, carbon emissions rose from 0.494 to 1.321 metric tons per person. The country is also facing rising sea levels and extreme weather events due to climate change.
While 98 percent of the urban population have access to the electricity grid, only 80 percent of the rural population are connected to electricity grid. Fiji's outer islands especially still rely on off-grid electricity, including generators, solar home systems, and diesel plants.
Without its own fossil fuel resources, Fiji is heavily dependent on imported fuel. This affects Fiji's energy security and energy prices. To address these impacts, the Fijian Government has invested in policies and the NDC Roadmap to reduce its emissions and foster clean energy growth. Fiji has an abundance of RE resources, including hydropower, solar, biomass, wind, and geothermal energy. So, increasing RE would enhance sustainable, reliable, and affordable energy production on the islands. Not only would this  support economic growth and energy security across the entire country, but it would also especially benefit Fiji's rural areas.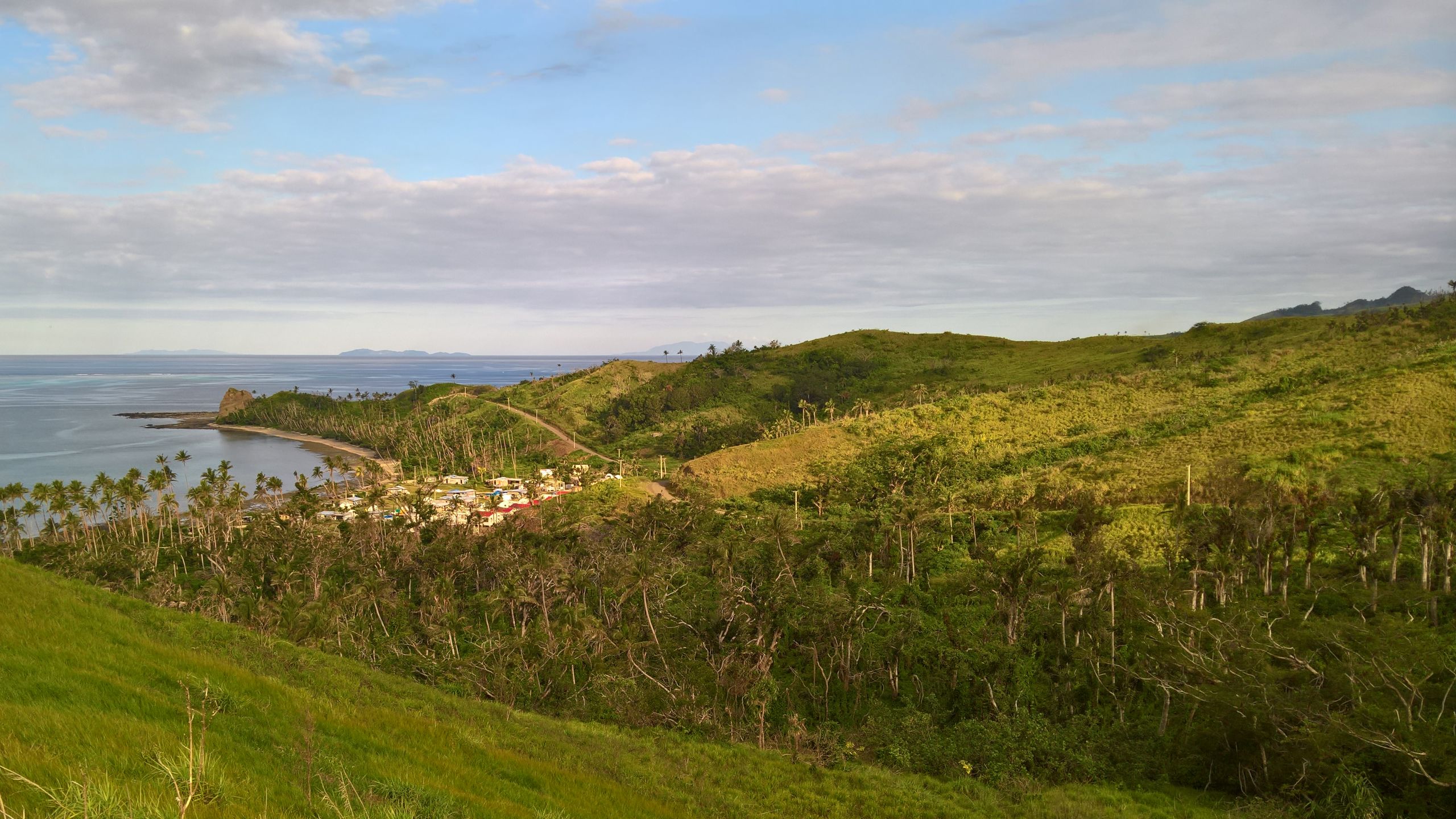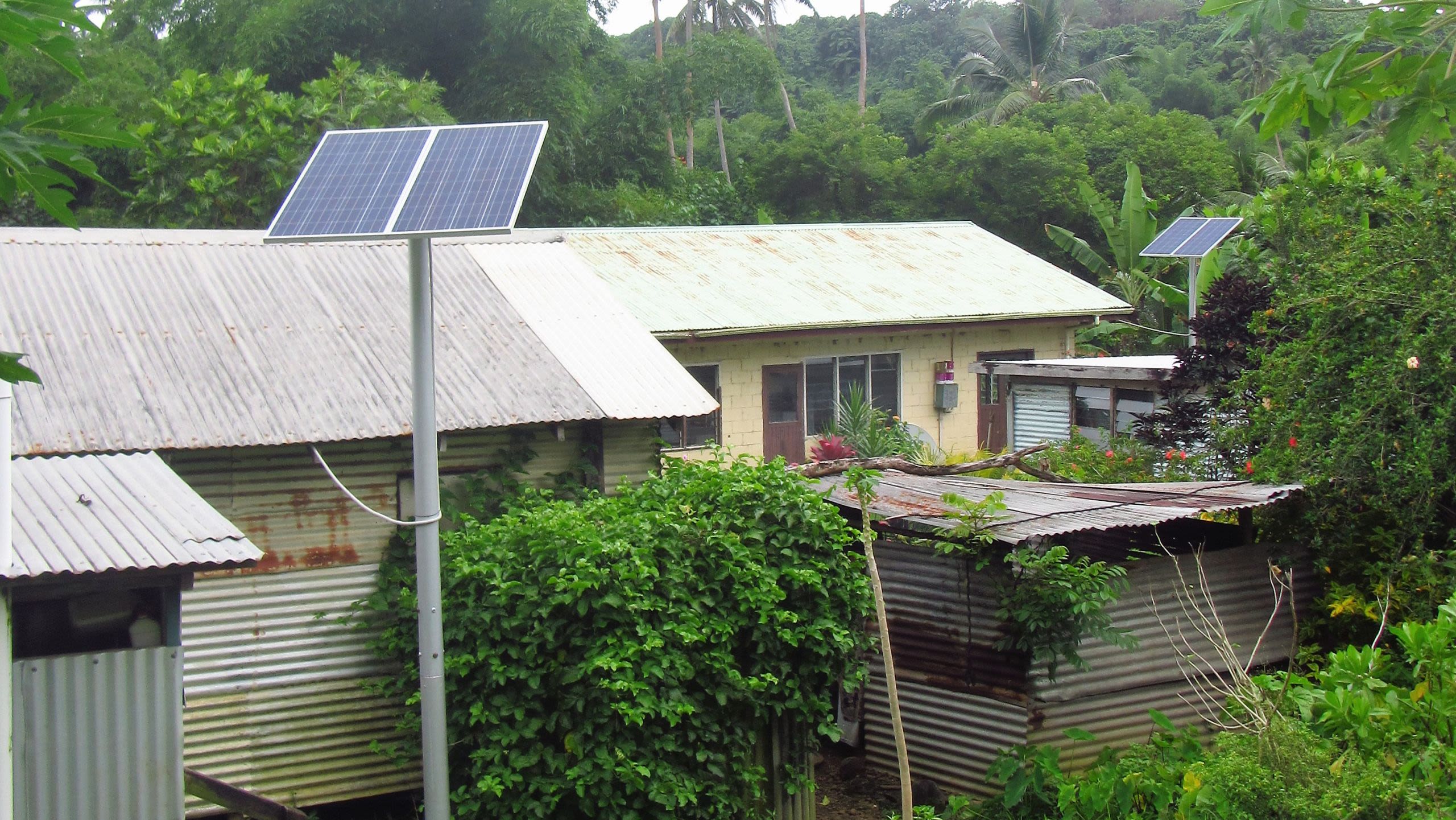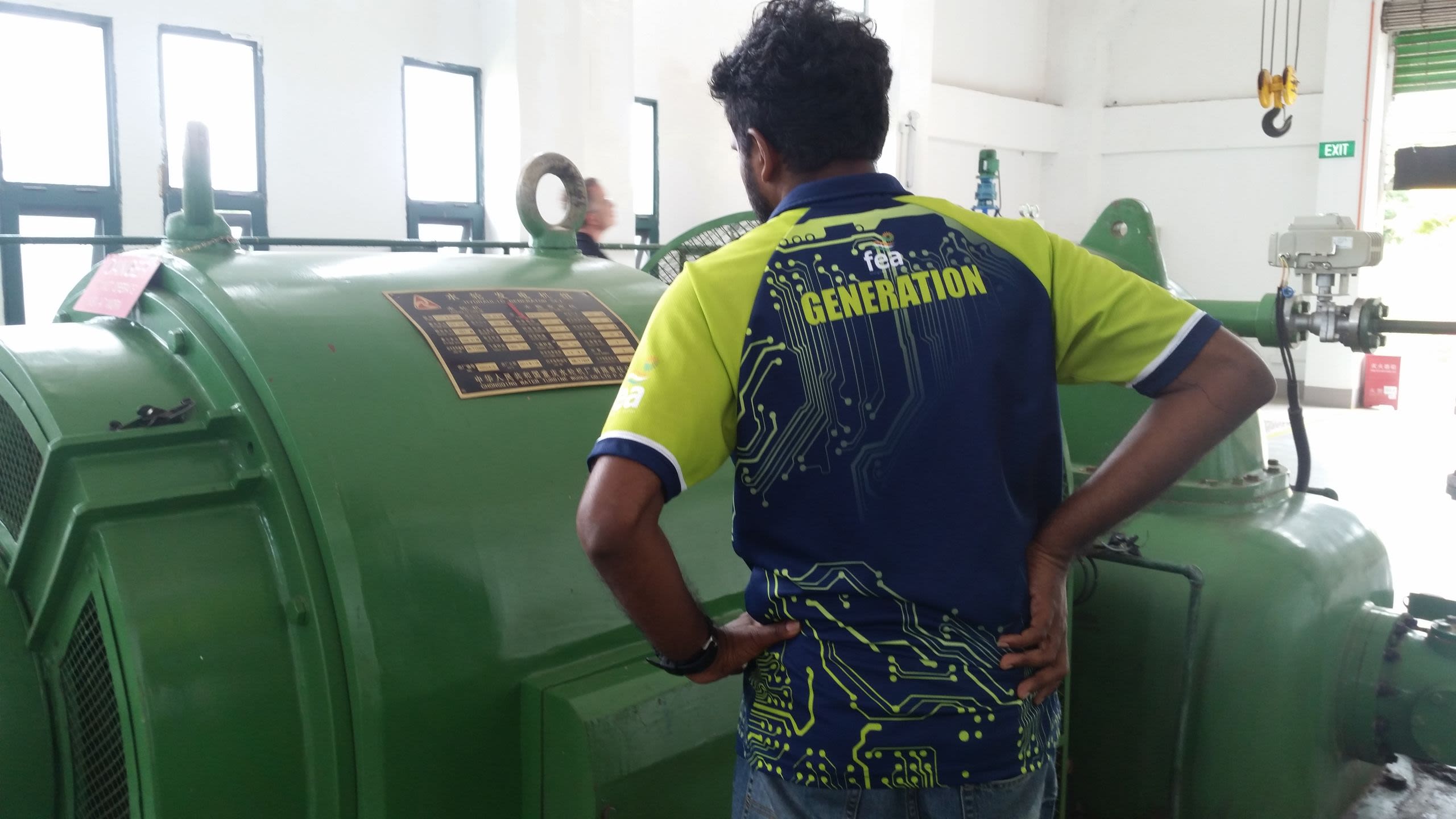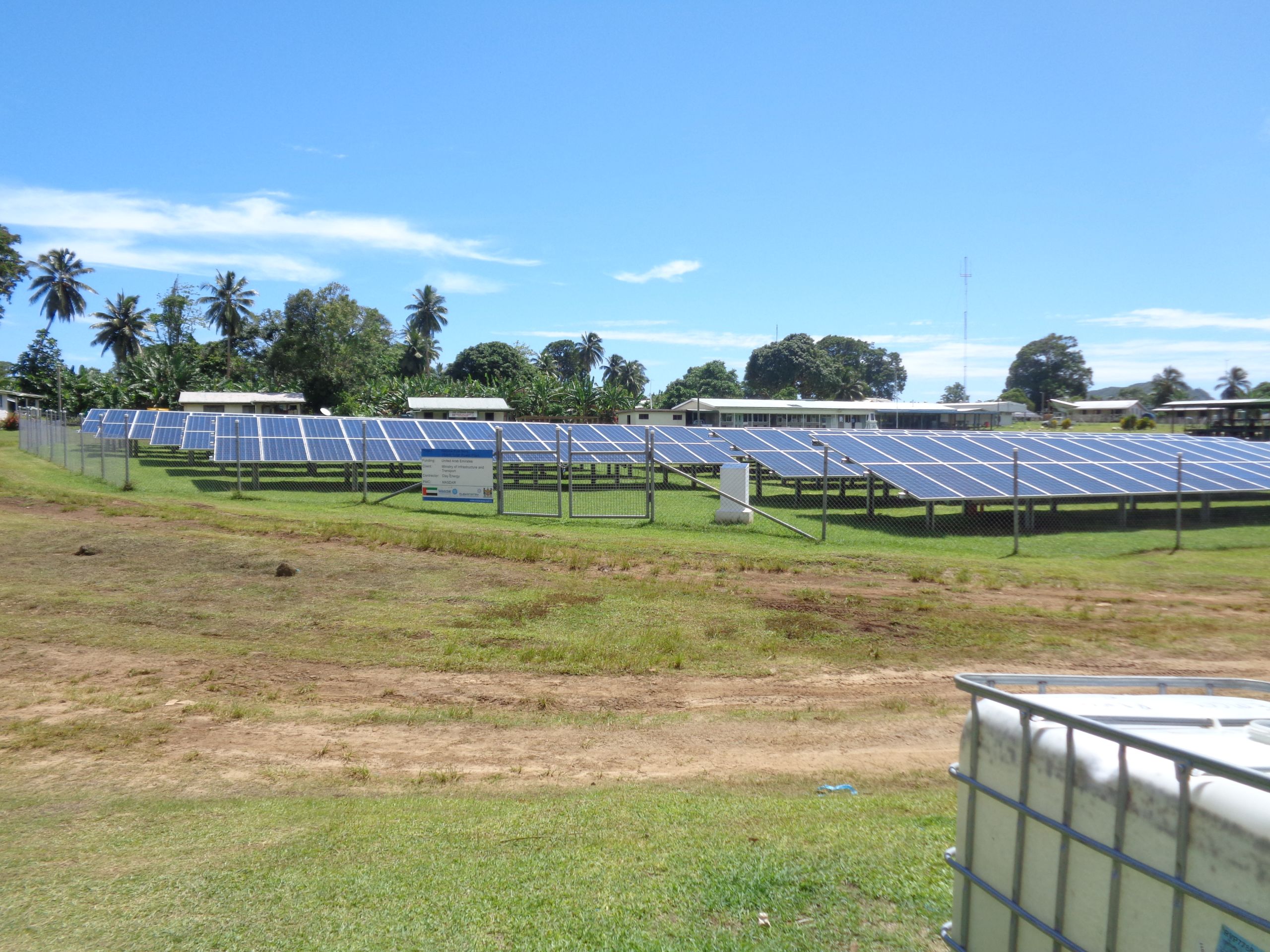 To boost energy access and contribute to climate action Fiji has set ambitious targets of:
Electricity access: 100 percent by 2020
Primary reliance on wood fuels for cooking: 12 percent by 2020, <1 percent by 2030
RE share in electricity generation: 80 percent by 2020, 100 percent by 2030
RE share in total energy consumption: 18 percent by 2020, 25 percent by 2030
To meet these goals, Fiji is pursuing a green growth pathway. Fiji's 5-Year and 20-Year National Development Plans (NDP) aim for 100 percent renewable electricity generation and 30 percent reduction in carbon emissions by 2030. GGGI assisted Fiji in developing and integrating a Green Growth Framework (GGF) into the NDP. With the GGF, Fiji aims to transition to clean, sustainable energy from different renewable sources.
As the energy sector is the main source of GHG emissions in Fiji, the government, in partnership with GIZ and GGGI, has developed a Low Emission Development Strategy (LEDS) . Launched at COP24 in Katowice, Poland, the Fiji LEDS is the second of its kind to be adopted by a SIDS national government. Linking up with Fiji's NDC Implementation Roadmap, these strategies work towards reducing emissions under the Paris Agreement. The main goal of the Fiji LEDS is to reach net zero carbon emissions across all sectors by 2050, including energy, agriculture, transport, tourism and waste. The strategy also aims to grow Fiji's forests and mangrove areas to absorb and store more carbon.
Currently, Fiji's electricity generation is made up of  about 55 percent hydropower, 40 percent diesel and heavy fuel oil, and 1 percent wind. With strong potential for solar energy, Fiji is working with GGGI to develop  large-scale solar projects on the islands of Taveuni and Ovalau to not only reduce emissions and boost energy security, but also to foster green tourism.
These approaches show how Fiji is moving towards a greener development path: alongside RE and sustainable development, Fiji is the first SIDS to include the blue carbon sector in their LEDS. To follow this path, Fiji will need increased access to finance and continued collaboration with international partners.
Development Through Sustainable Energy in Vanuatu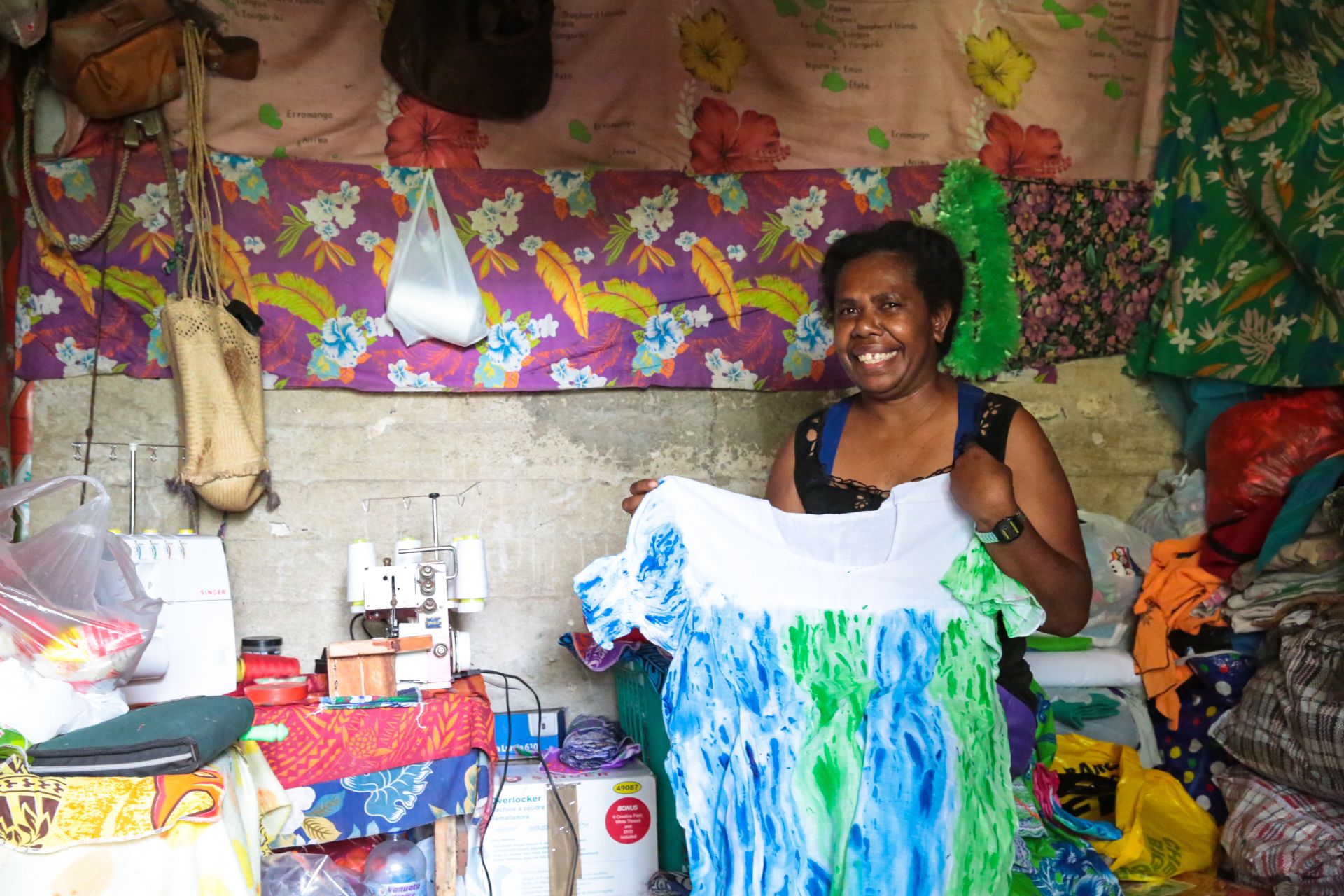 Vanuatu is a SIDS home to 276,000 people with over 82 islands and diverse ecosystems ranging from flourishing marine habitats to valuable sandalwood forests. Tourism is a key industry in Vanuatu – in 2015 it made up nearly 79 percent of exports – alongside agriculture, fisheries, and financial services.
Although economic growth took a hit in 2015 after Cyclone Pam caused widespread destruction, annual GDP growth has returned to above the regional average, reaching 4.5 percent in 2017.
After being classified as a Least Developed Country (LDC) in 1985, Vanuatu is likely to move out of this group in December 2020.  Under the National Development Plan 2016–2030, Vanuatu aims to become a stable, sustainable, and prosperous nation by 2030.
While only contributing a very minor fraction of global emissions – less than 0.0016 percent – Vanuatu is leading climate change action. After signing the Paris Agreement in April 2016, the country has developed an NDC and National Energy Road Map (NERM) aiming  to reach 100 percent RE by 2030.
People living in urban areas – one-third of all people, many living in the capital, Port Vila, and the city, Luganville – benefit most from economic growth. The remaining two-thirds of people who live in rural areas contribute only 10 percent to GDP and largely rely on subsistence agriculture. 
These challenges in rural development are made worse by Vanuatu's vulnerability to volcanic eruptions, drought, landslides, and earthquakes. The country already experiences a six-month cyclone season and tropical cyclones are expected to become increasingly severe with climate change. Globally, Vanuatu holds the unenviable position of being ranked the worst affected country by climate change.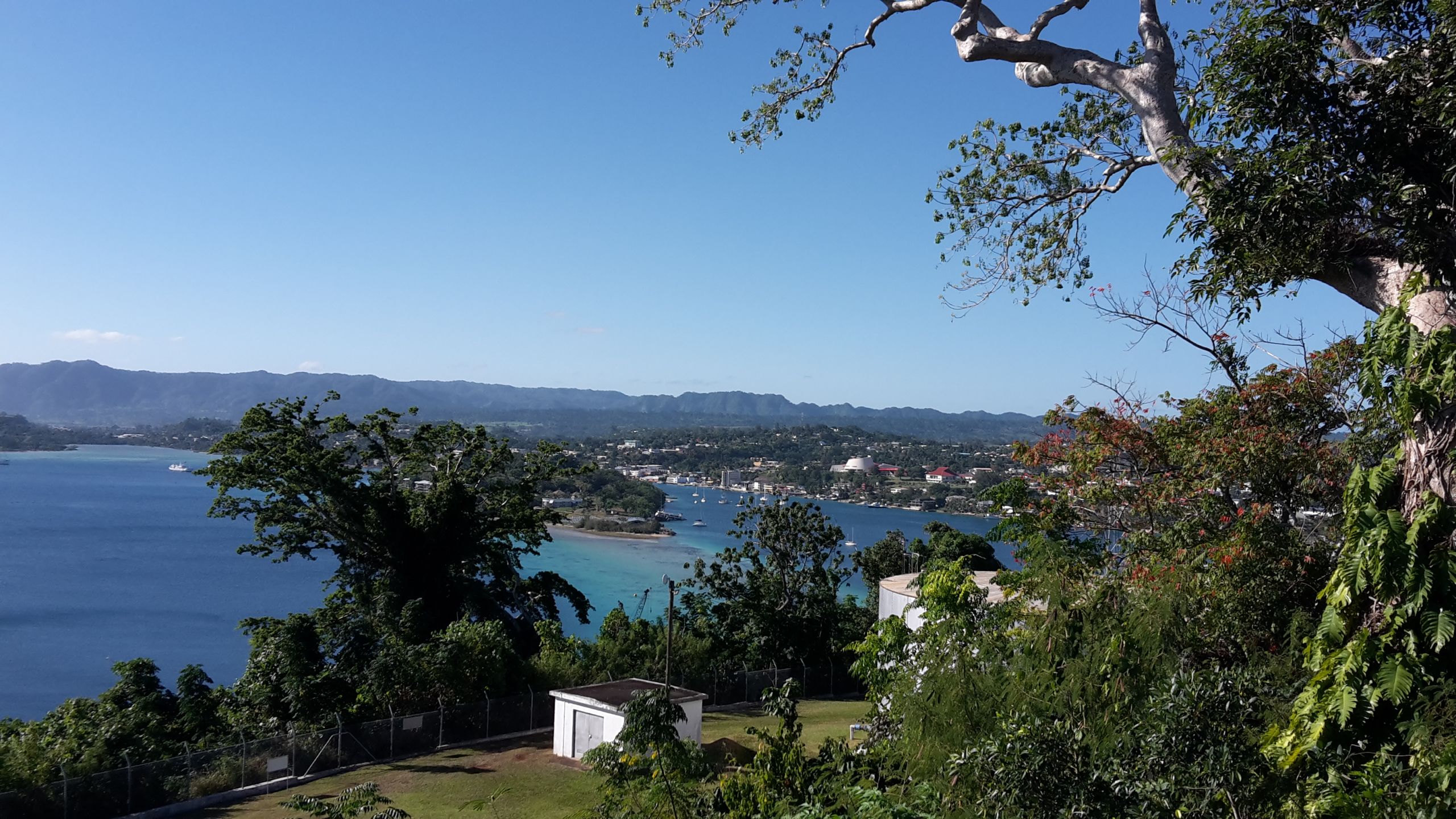 With no fossil fuel resources, Vanuatu, like other Pacific SIDS, relies on imported fuel, which can be costly and unreliable.  Businesses face high energy costs, even in urban areas. Even compared to other Pacific SIDS, Vanuatu has low electrification rates, particularly in rural areas. In 2016, around 54 percent of rural households did not have electrical energy access, much higher than 8.6 percent of urban households. Households outside of urban areas often rely on small diesel generators operated by communities or government stations. At the same time, some tourist resorts have diesel-powered mini-grids.
This is a central challenge for Vanuatu: clean, reliable, affordable, and accessible energy is central to Vanuatu's inclusive green economic growth. The country has an abundance of RE resources including hydropower, geothermal, coconut oil, solar, and wind, which can be harnessed to support this green growth. To help achieve these goals, Vanuatu has developed the NERM to make use of these RE sources. After being updated in 2016, the NERM lays the path for Vanuatu to achieve its energy goals towards 2030 and improve the lives of everyone.
In 2015, RE made up nearly 30 percent of energy generation in Vanuatu and over 36 percent of energy consumption. In three years, reliance on diesel dropped over 20 percent. While Vanuatu may not meet its planned goal of 65 percent RE by 2020, the country is moving in the right direction. In addition, the government is focused on developing energy efficiency (EE) solutions to lower costs.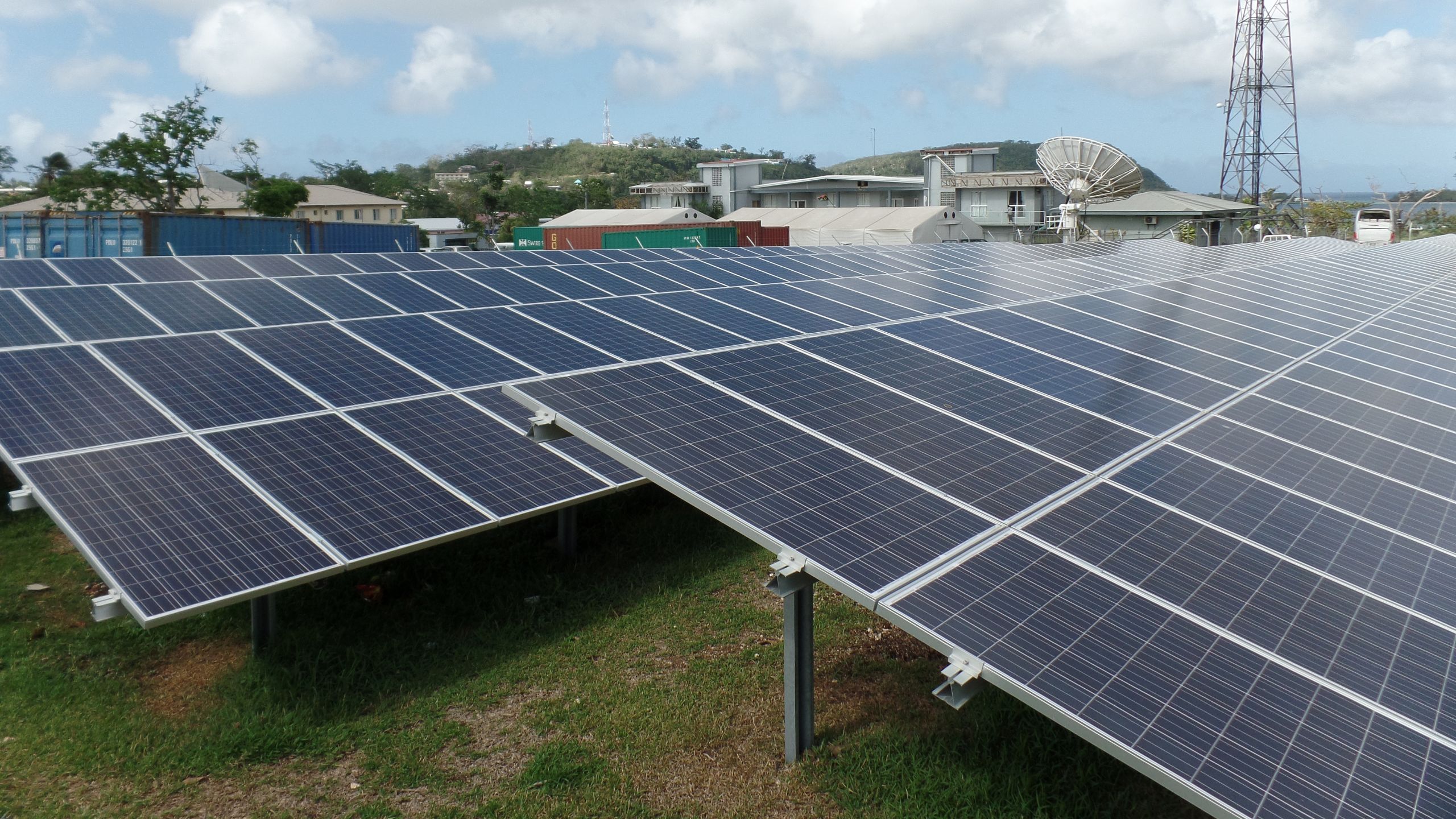 As RE and EE are central to limiting climate change, and also the most cost-effective way to develop the energy sector, Vanuatu is working closely with other countries and development partners to achieve these goals.
For example, the ADB is supporting a USD15.1 million Vanuatu Energy Access Project  to increase hydropower resources and electricity access on the two largest islands – Malekula and Espiritu Santo – as well as boosting RE on Malekula. The World Bank is also supporting the Vanuatu Rural Electrification Project (VREP), spreading energy access to 17,500 households, 2,000 community halls, and 230 aid posts.  This project has already boosted access to lighting and phone charging and is moving towards reducing the costs of solar energy for nearly 9,000 homes and 37 community buildings.
UNDP has released the Nationally Appropriate Mitigation Action on Rural Electrification in Vanuatu and proposed RE projects in key areas.  At the same time, GIZ is leading the Solar, Biogas and Climate Early Warning System (CLEWS) Project to build the country's energy security and climate resilience.
Likewise, GGGI is collaborating with the Government of Vanuatu to design new plans for sustainable, inclusive, and resilient energy, paving the way for green growth in the country, including rural electrification. GGGI assisted the Department of Energy to revise the NERM, along with the World Bank, and develop the NERM Implementation Plan and supported the National Green Energy Fund (NGEF) to boost access to international climate finance. GGGI is also working with the Department of Water Resources to implement solar water pumping to increase resilience of rural communities to climate change.
Energy access has increased, but work is being done to extend this to more households. This progress would not have been possible without financial support and partnerships with energy companies, development organizations and other countries. Vanuatu will continue to foster stronger partnerships to support sustainable development.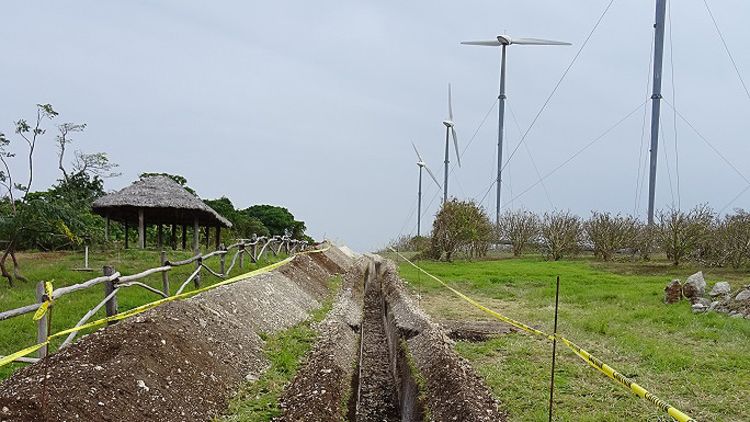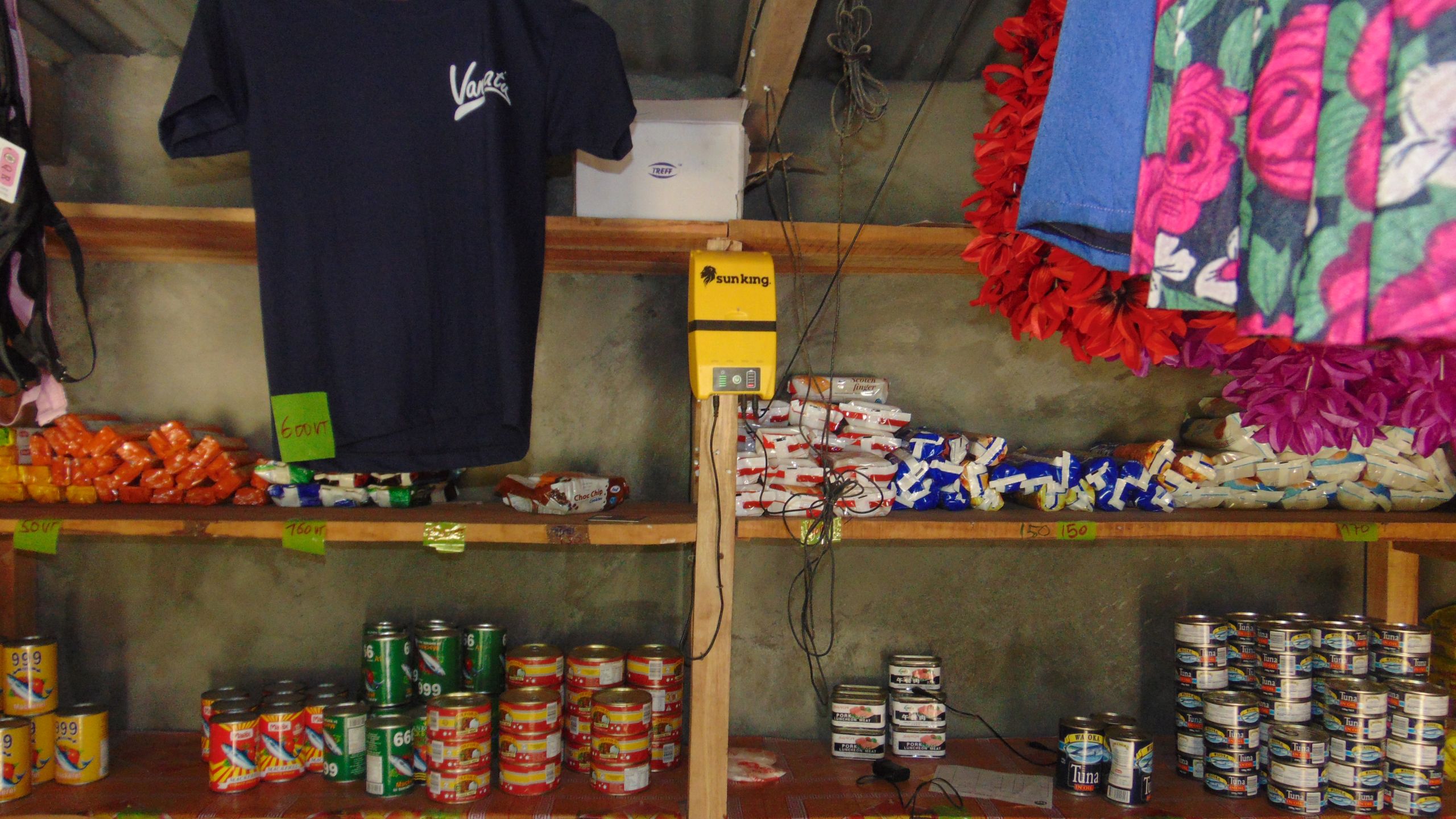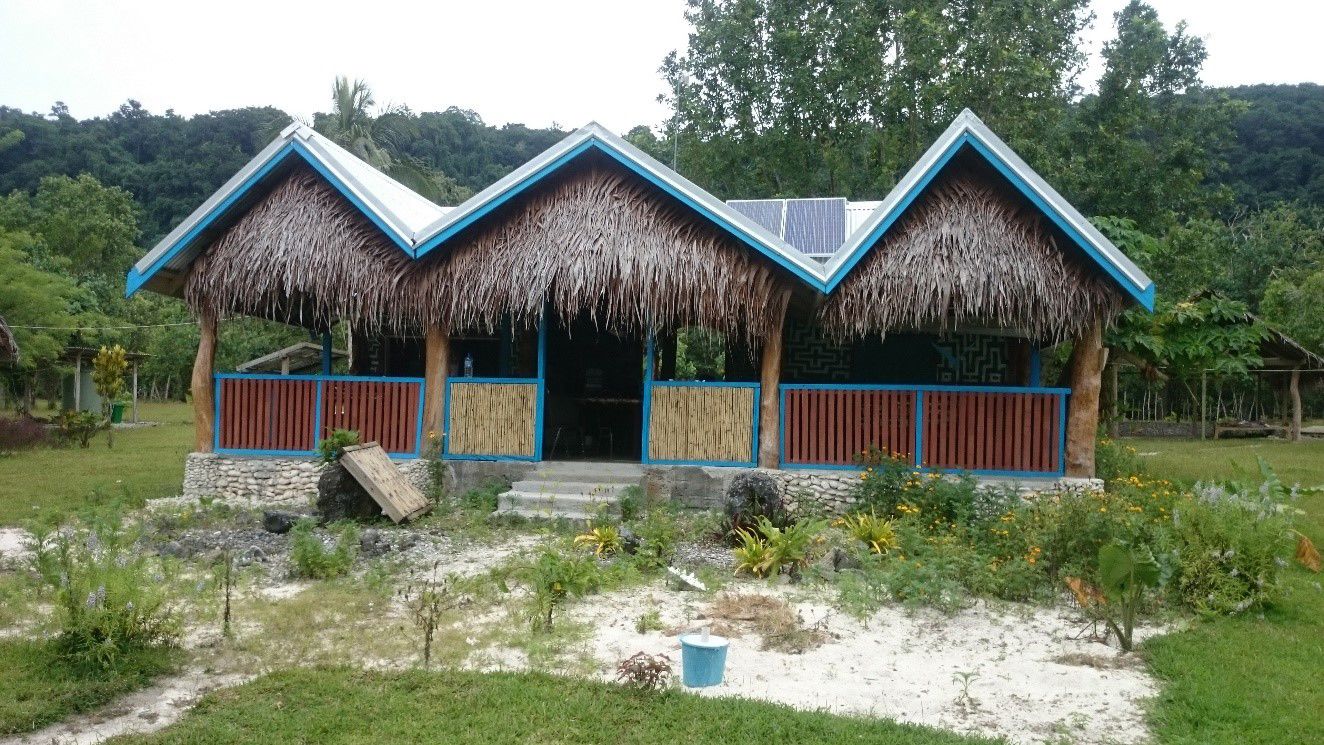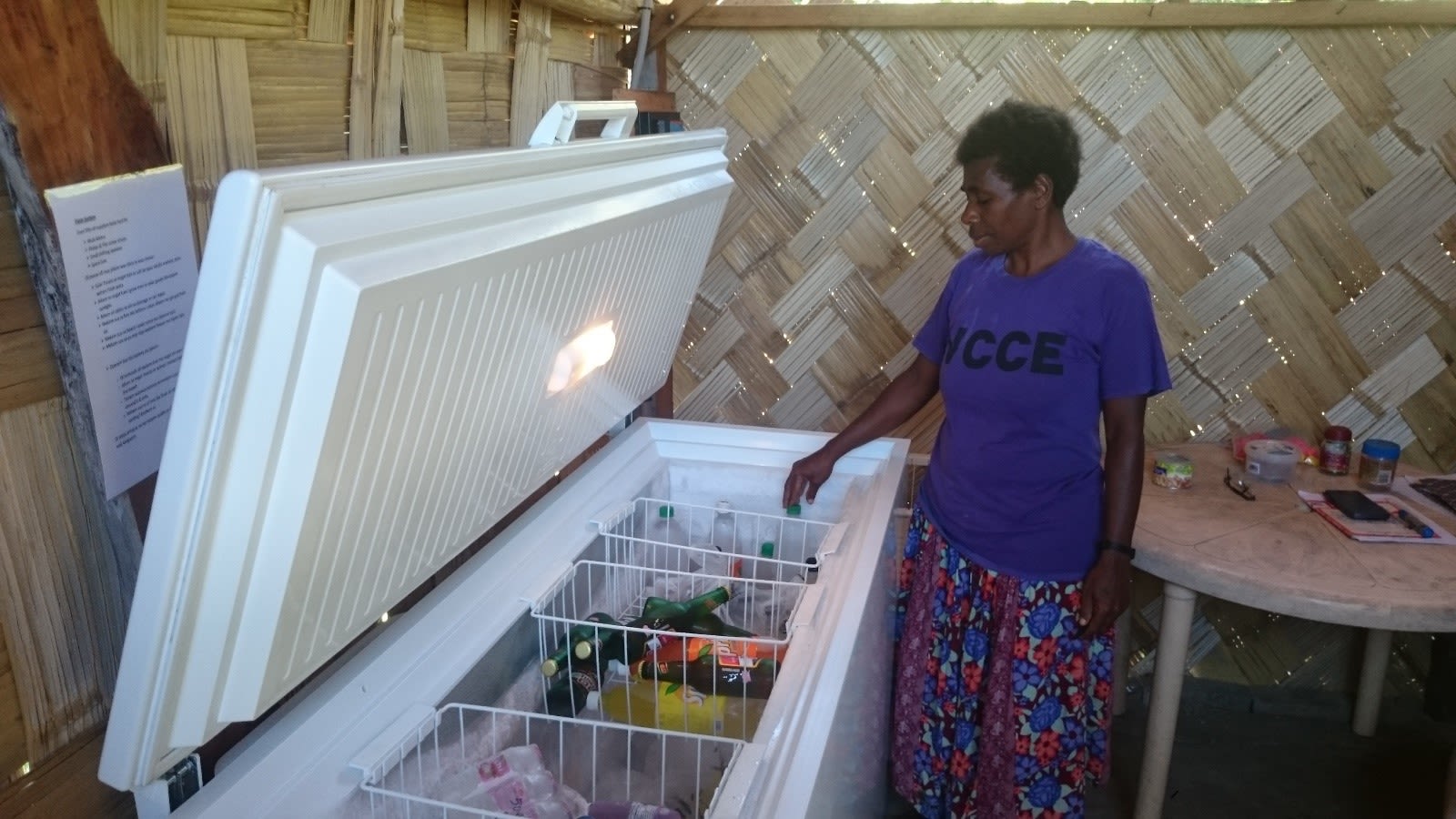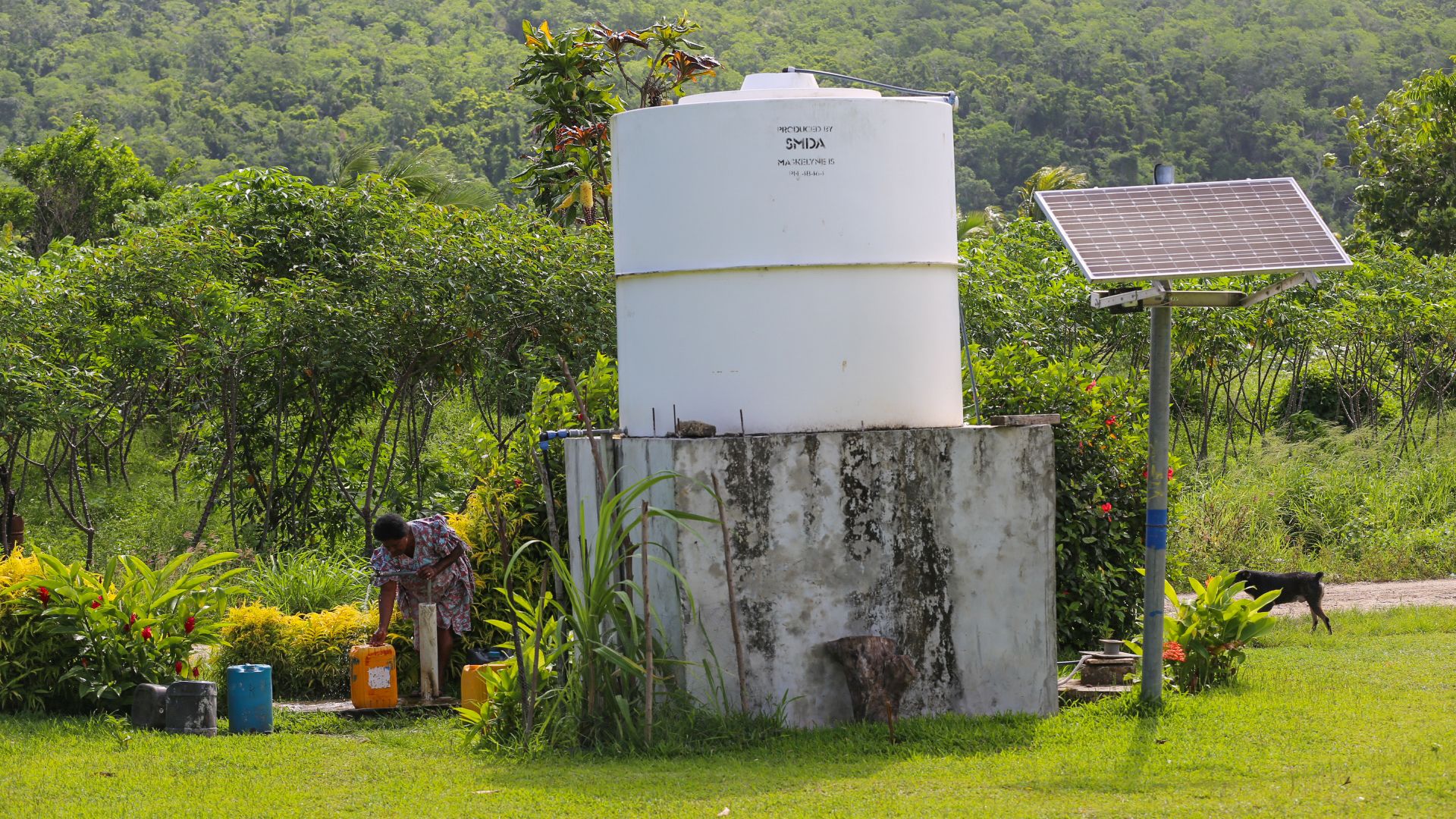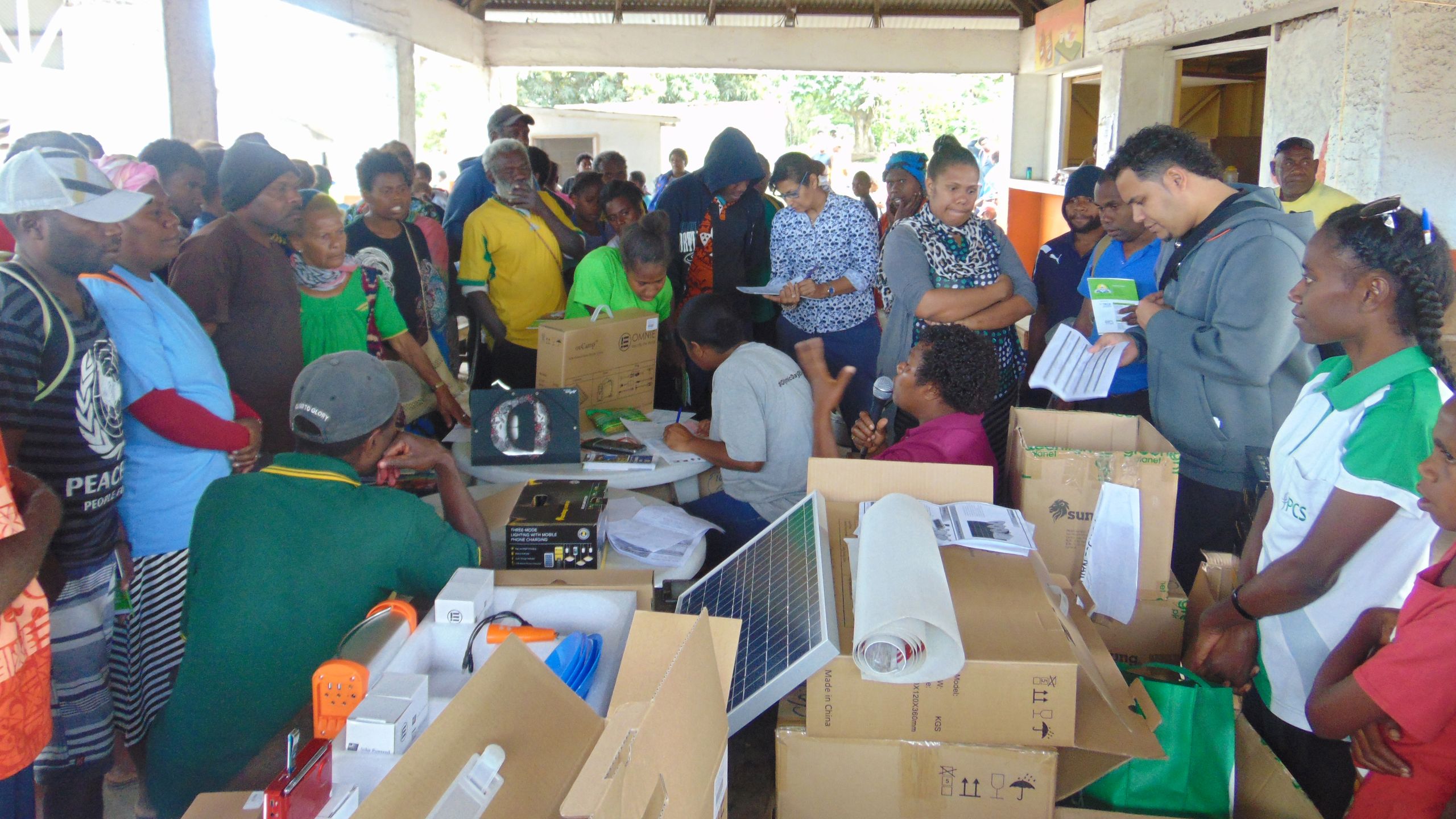 Kiribati's Transition Towards Energy Independence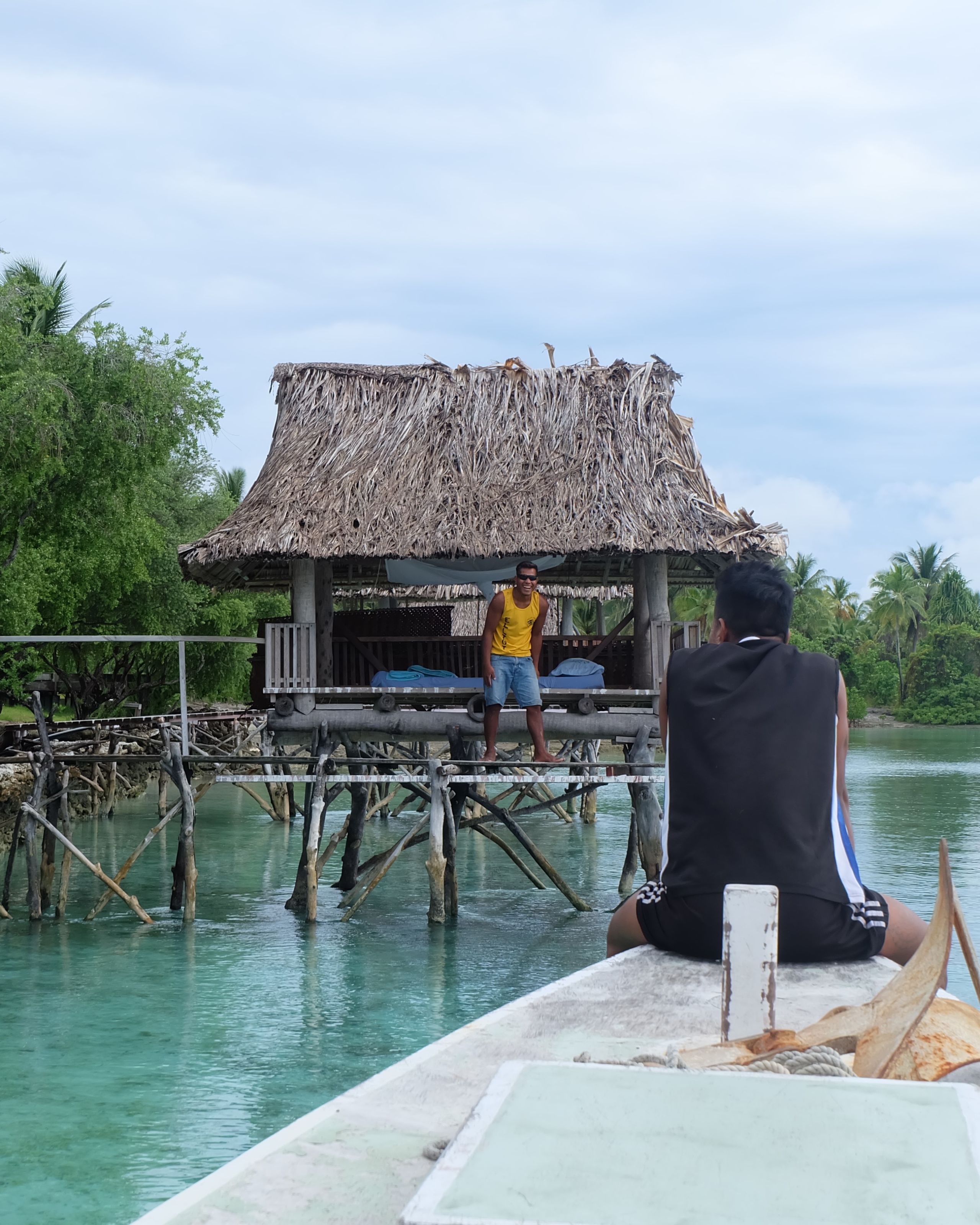 Kiribati is a SIDS made up of 32 low-lying atolls and one coral island, covering 800 square kilometers of land spread out over 3.5 million square kilometers of ocean. Only 21 of these islands are populated and are home to over 110,000 people. 90 percent of all people live on the Gilbert Islands, one of three island groups, with about half of Kiribati's population living on the South Tarawa atoll.
Kiribati's tropical beaches and vibrant culture and lifestyle attract many tourists. In 2017, tourism contributed USD15.5 million to the economy, making up nearly 9 percent of GDP, and was expected to rise to USD21.2 million by 2028. In addition to contributing to the economy, tourism offers many benefits to Kiribati, especially in infrastructure and the environment.  
Through the hard work of the government and international partners, in 2018, the UN recommended that Kiribati move out of the LDC category. Kiribati is strengthening international cooperation to address climate change, and the country is developing low-emission climate targets under its NDC.  
Rising sea levels, however, are threatening the shoreline and seawalls in Kiribati. This, in turn, is causing flooding and destruction in coastal communities. People in Kiribati's low-lying atolls are vulnerable to climate change, which is made worse by high population growth, especially in South Tarawa where the exploitation of scarce natural resources is becoming an increasingly difficult problem.
Like other Pacific SIDS, Kiribati relies on imported fuels – over 21 million liters of fuel are imported every year. About half of the imported fuel is used for energy generation on South Tarawa atoll. On the outer islands, only half of households have access to electricity, and many use a combination of kerosene for lighting or cooking, and diesel or benzene for land and water transport.
To reduce this reliance on imported fuels and boost electricity access, Kiribati is looking to renewable energy (RE). In 2014, just 37 percent of the national energy supply came from local RE sources. Solar energy is the most common RE in Kiribati, with over 2,500 solar installations across the country. Other opportunities also exist: the large coconut plantations, for example, offer potential for coconut oil to replace imported fuel, and wind energy also has high potential for Kiribati.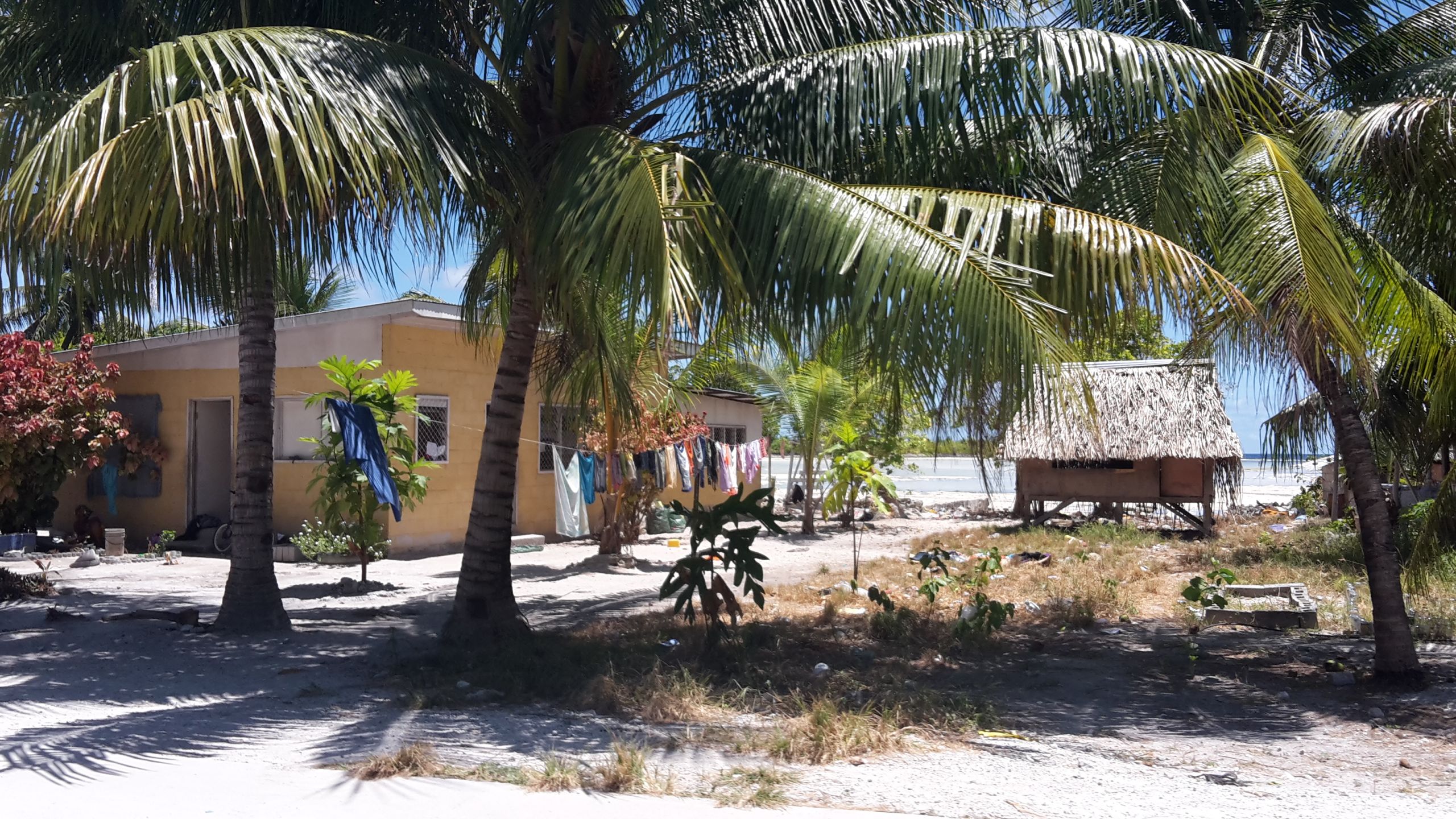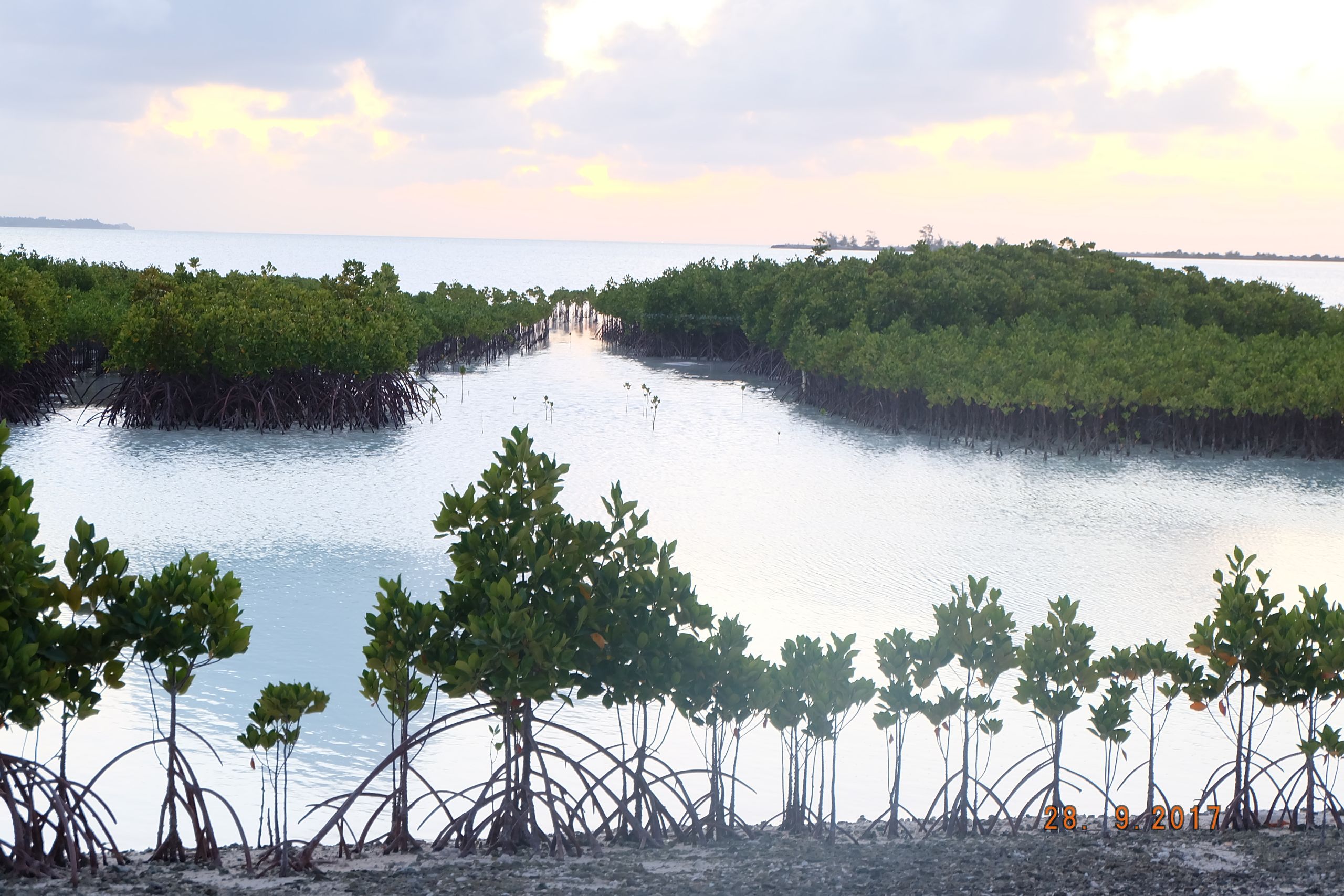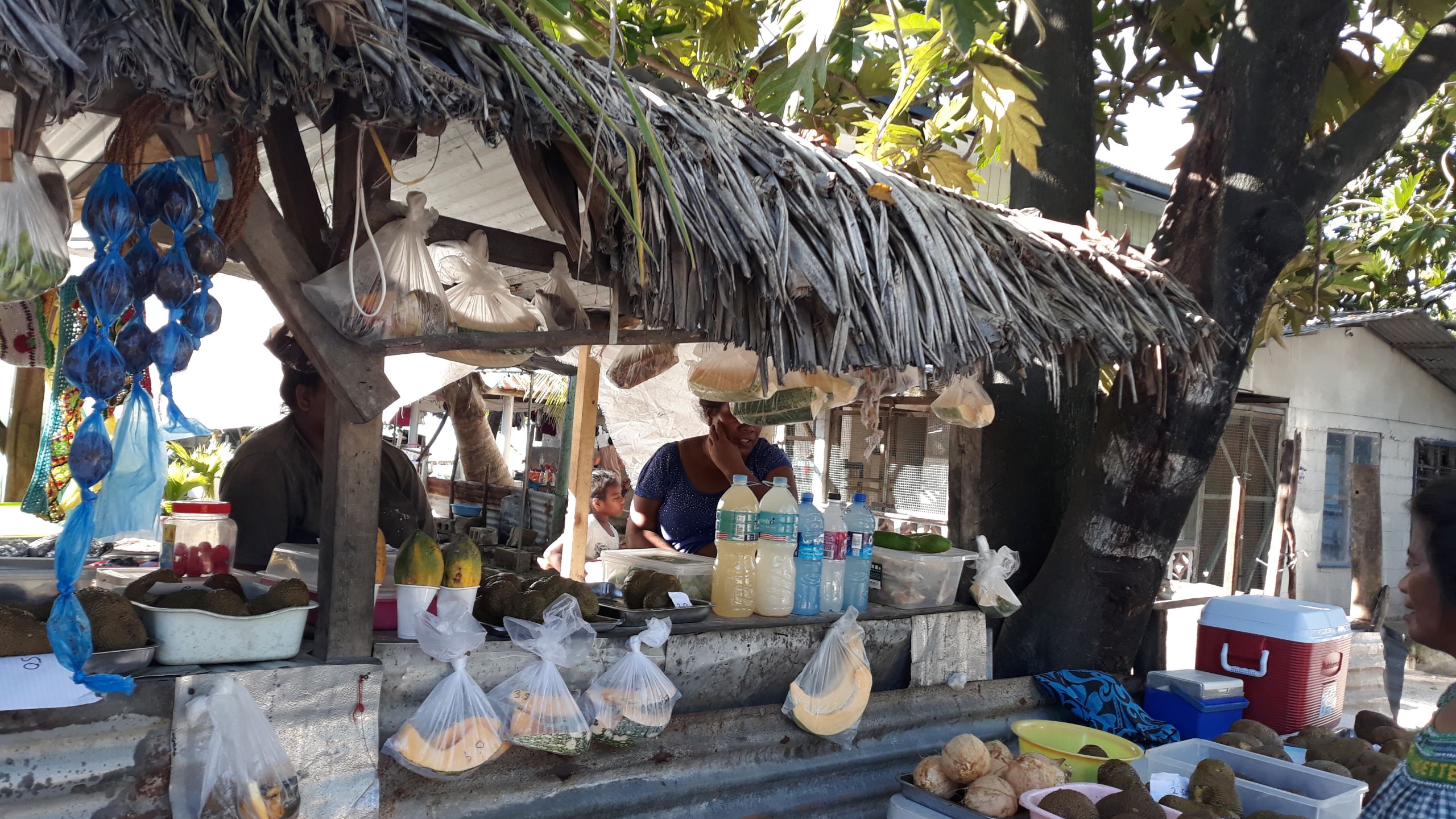 To achieve sustainable development and address climate change, the Kiribati Development Plan (KDP) focuses on clean and green energy. The KDP focuses on building the country's capacity to adapt and respond to climate change, including through better access to international funding.
Kiribati partnered with the World Bank on the Kiribati Adaptation Program (KAP) to raise climate change awareness, assess, and protect water resources. Together, the Government of Kiribati and the World Bank built seawalls and repaired leaks to protect coastal areas from storm waves and flooding.
GGGI has supported Kiribati's Whole-of-Island-Approach (WOIA) , which seeks to support outer island communities. GGGI is also looking at green small business models and infrastructure to support local livelihoods as people continue to face climate change impacts.
Even though Kiribati is not obligated to reduce its emissions, the country has made efforts to limit climate change. Kiribati has cooperated with the International Renewable Energy Agency, the Pacific Community, and the Pacific Power Association to develop the Kiribati Integrated Energy Roadmap (KIER), a plan to support RE in the country. The KIER offers a path to reach the country's energy goals across sectors. This includes the establishment of the Kiribati Solar Energy Company to provide solar lighting on rural islands and exploring coconut oil-based biofuel. Although small, Kiribati is taking a leadership stance to create a strong platform for green growth.
Sustainable Energy Aspirations in Papua New Guinea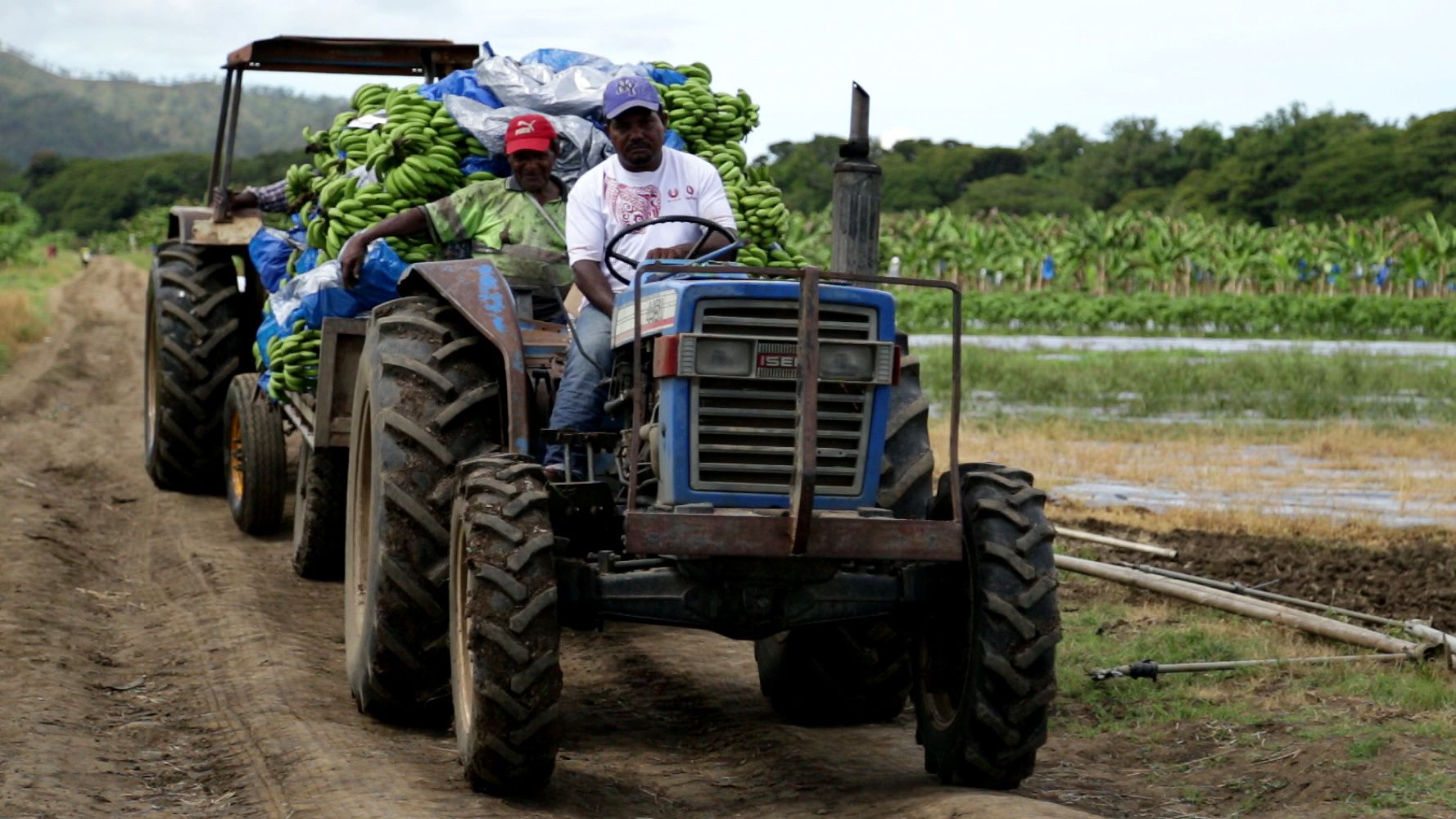 Papua New Guinea (PNG) is the largest SIDS in the Pacific taking up the Eastern side of the world's second largest island and some 600 small islands. PNG is home to 8.25 million people that make up nearly one thousand distinct cultural groups speaking around 839 Indigenous languages. With diverse and rich ecosystems, the country hosts a remarkable seven percent of the Earth's biodiversity.
Compared to other Pacific SIDS, PNG has significant economic opportunities from minerals and natural resources. Almost two-thirds of its income are from copper, gold, oil, and natural gas. In 2014, the construction of a USD19 billion liquefied natural gas (LNG) project was the single biggest investment in the nation's history.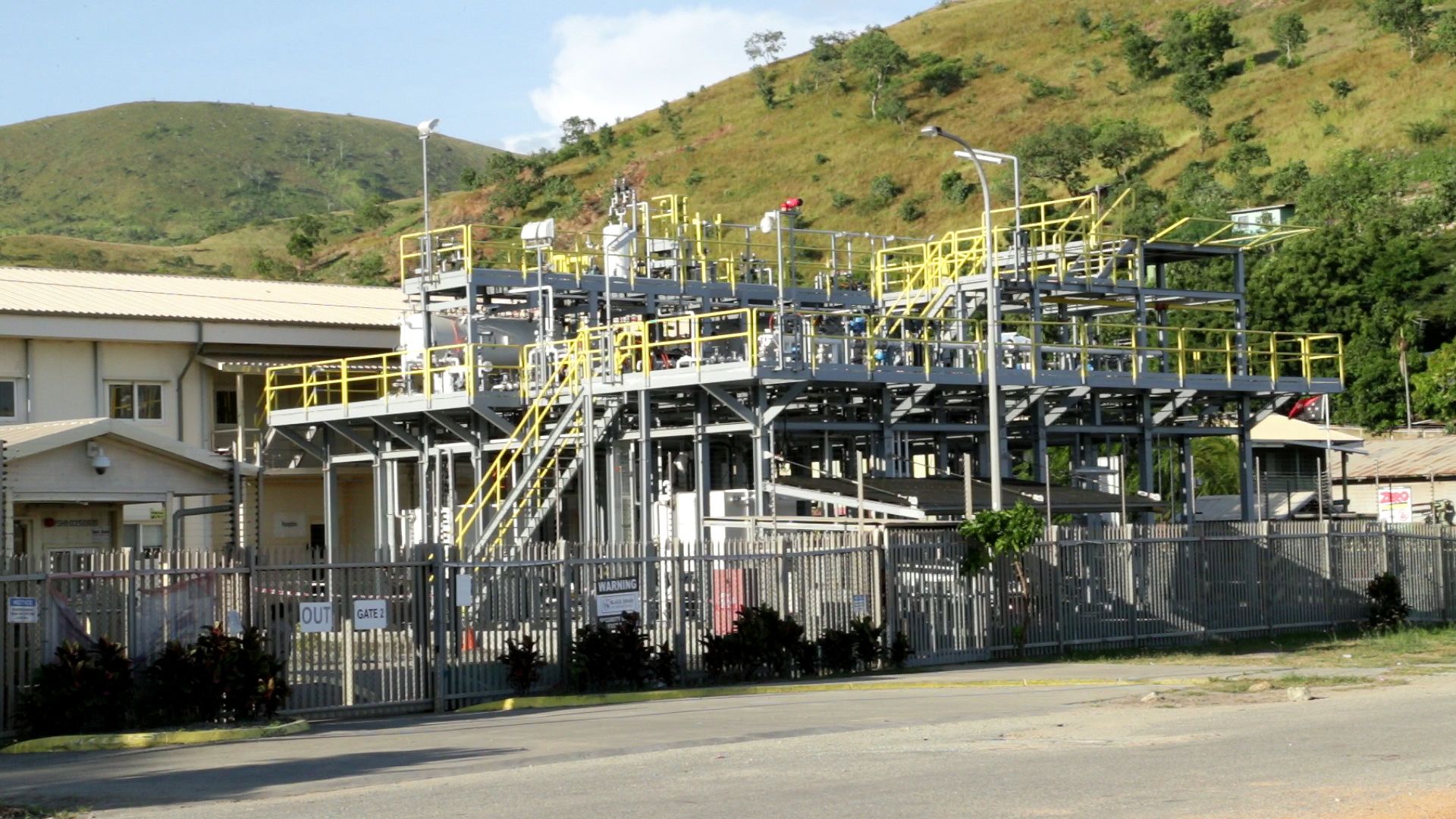 However, these natural resources have not resulted in widespread development: 85 percent of the population live in rural areas and rely on subsistence agriculture for their livelihoods, and economic growth has varied widely from year to year, averaging less than 3 percent annually since independence in 1975.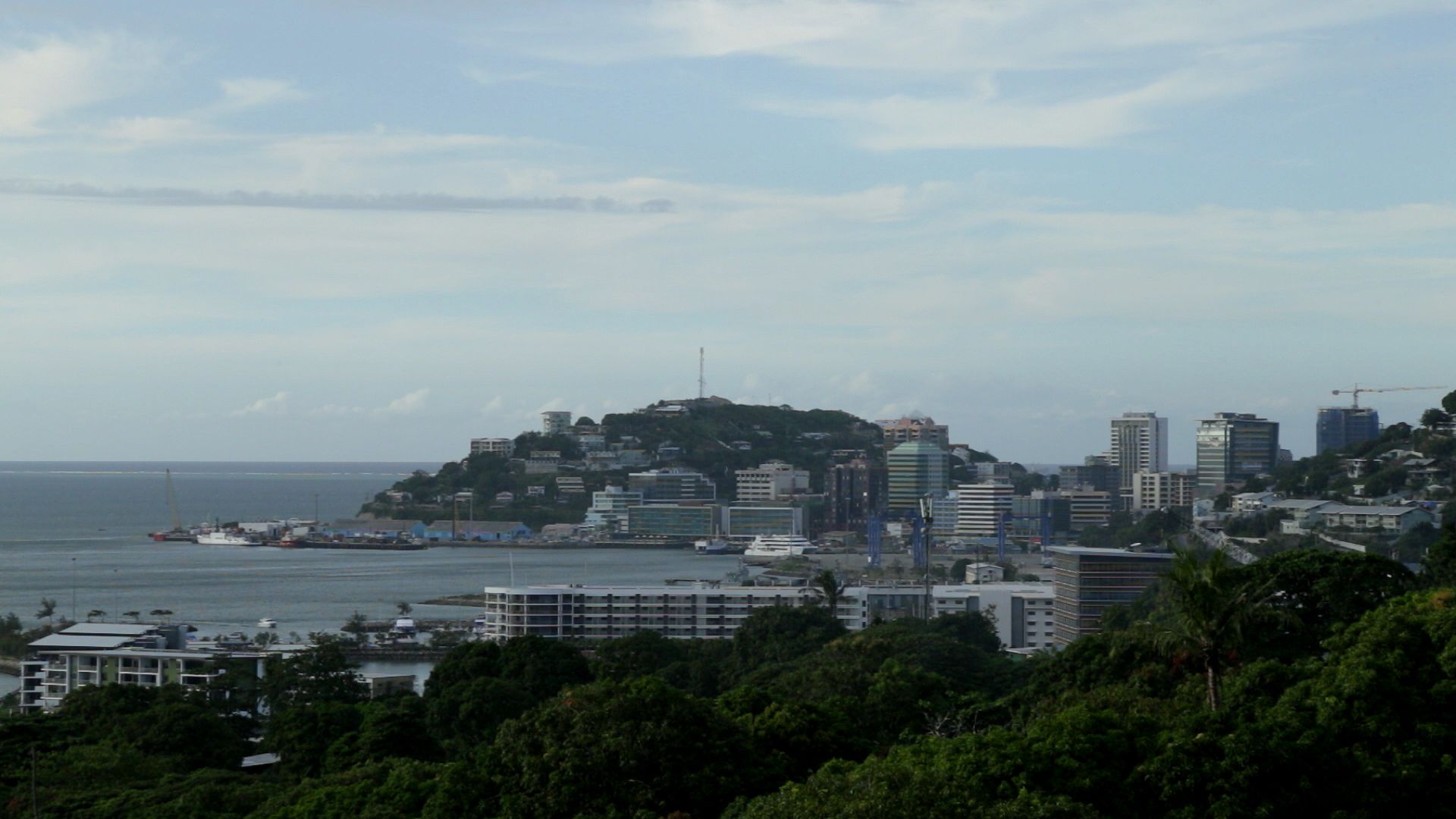 As a result of this inconsistent growth, PNG is currently ranked at 156 out of 187 countries on the UN Human Development Index (HDI).  Only a minority of people have access to energy and water infrastructure, while two-fifths of health centers lack electricity and essential medical equipment.
PNG is vulnerable to natural disasters, including volcanic eruptions, frequent and sometimes severe earthquakes, mud slides, and tsunamis. Unsustainable activities, like mining and logging, have damaged the environment. Climate change is adding to these pressures, with impacts including sea level rise, coral bleaching, and an increase in some vector-borne diseases, such as malaria.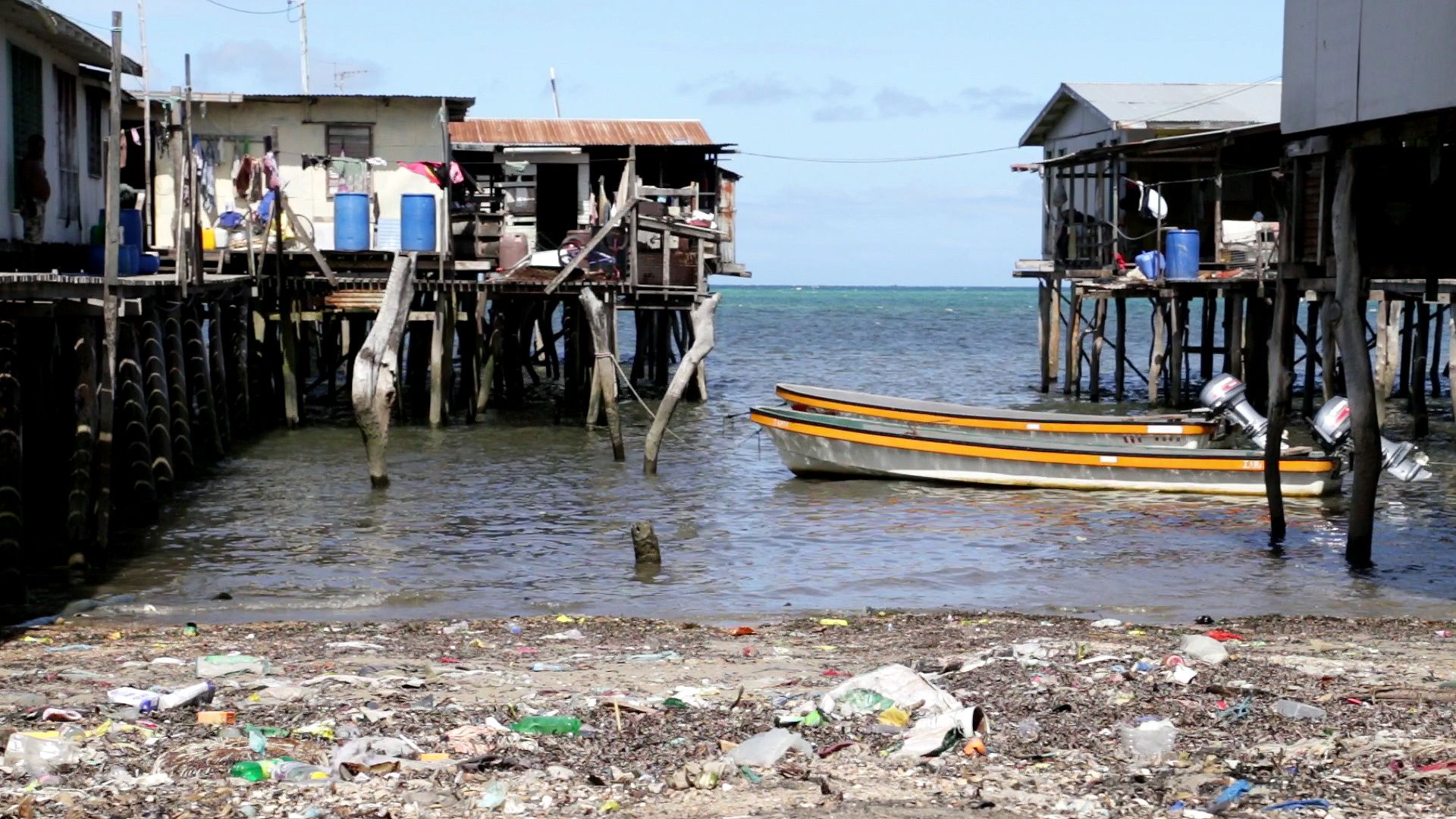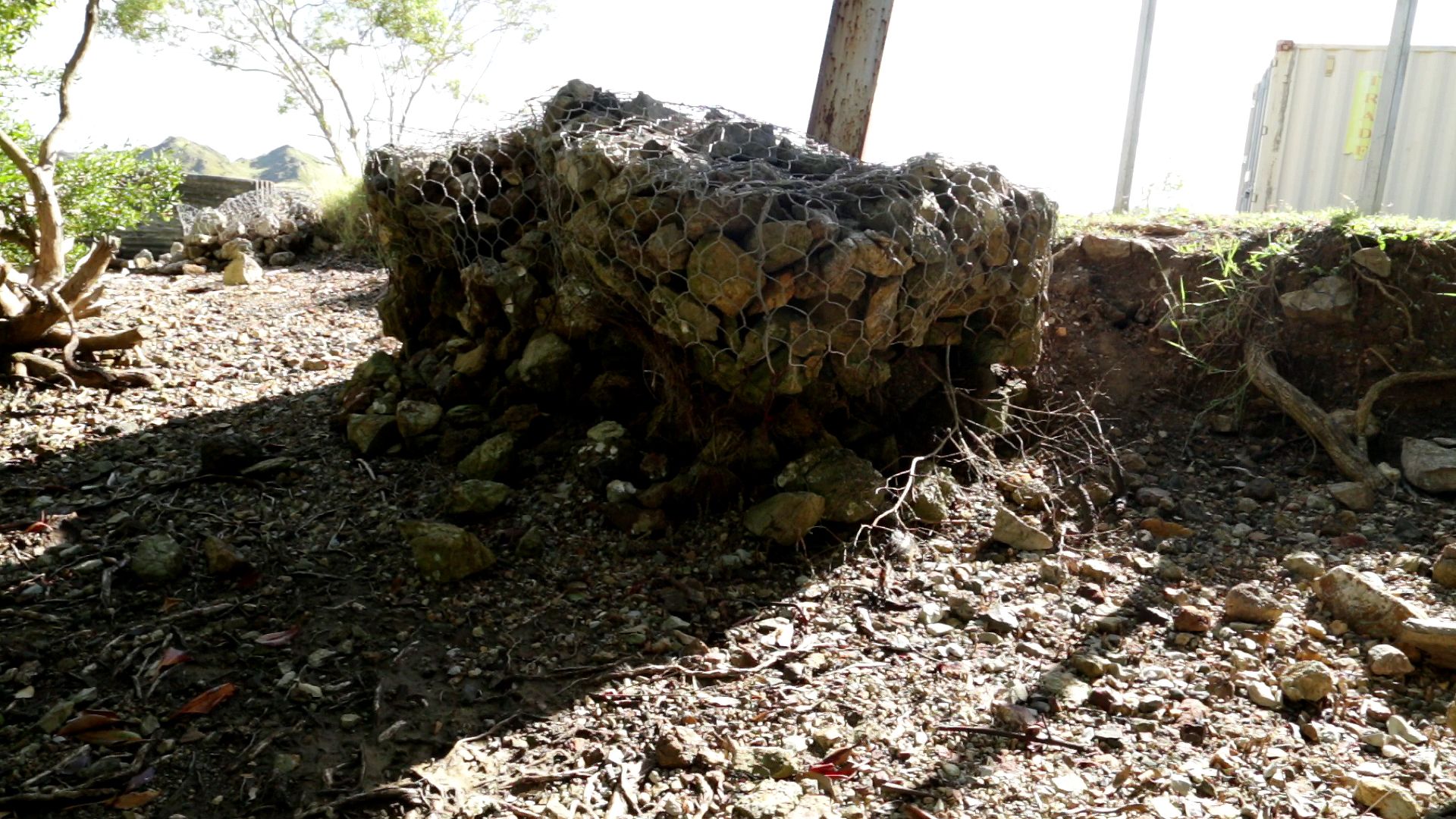 Despite these challenges, PNG has embraced a shift towards inclusive economic growth through sustainable energy and is moving away from a reliance on fossil fuels.
In 2009, PNG released its Vision 2050, outlining the country's ambition to be ranked among the top 50 countries on the UN Human Development Index (HDI) by 2050. The path to achieve this vision is laid out in PNG's Development Strategic Plan (DSP) 2010–2030 and the National Strategy for Responsible Sustainable Development (StaRS). Through these plans for inclusive green growth, PNG aims to become a middle-income nation by 2030.
The DSP focuses on providing reliable, affordable, and clean energy sources to over 70 percent of households and all businesses by 2030. In 2016,  nearly 23 percent  of the population had access to electricity,  including 72.7 percent of urban households and just 15.5 percent of rural households.
With several separate grids, the electricity network across PNG has limited reach. Due to unreliable energy supply, people often turn to expensive and inefficient options in urban areas. Large industrial users, particularly mining sites, also operate their own energy systems.
As of 2013, PNG's energy generation included 39.7 percent hydropower, 37.4 percent diesel, 14.1 percent gas, and 9.1 percent geothermal. Most of the hydropower facilities are outdated and in varying states of disrepair. The country could meet all of its energy needs through geothermal, but only a small fraction of this potential has been explored. In addition, the use of solar energy has spread gradually throughout the country, but mainly only for lighting.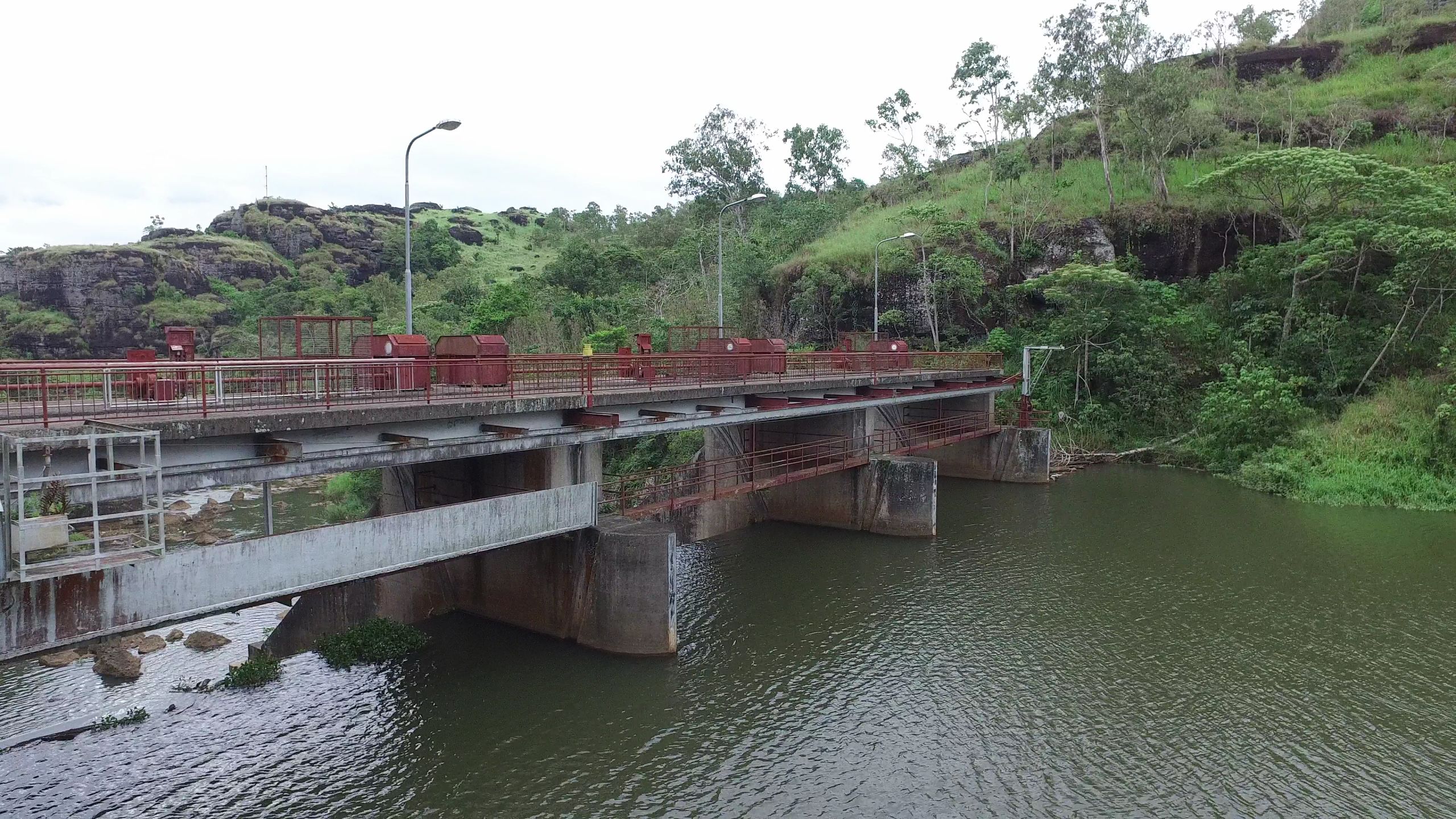 To overcome these challenges and make the most of PNG's RE resources, the government is collaborating with international partners. For example, ADB has funded three electricity projects and six technical assistance programs, with current projects worth  USD240 million. PNG also has proposed investments of USD493 million, which aim to boost energy access in urban and rural areas.
The World Bank has also supported the National Electrification Roll-Out Plan (NEROP), as well as identifying RE resources in the country. This builds on the GIZ Integrated Water and Energy Project, which is installing solar plants in village clinics , to ensure that vaccines are stored safely and ultimately improve health care for people in rural areas.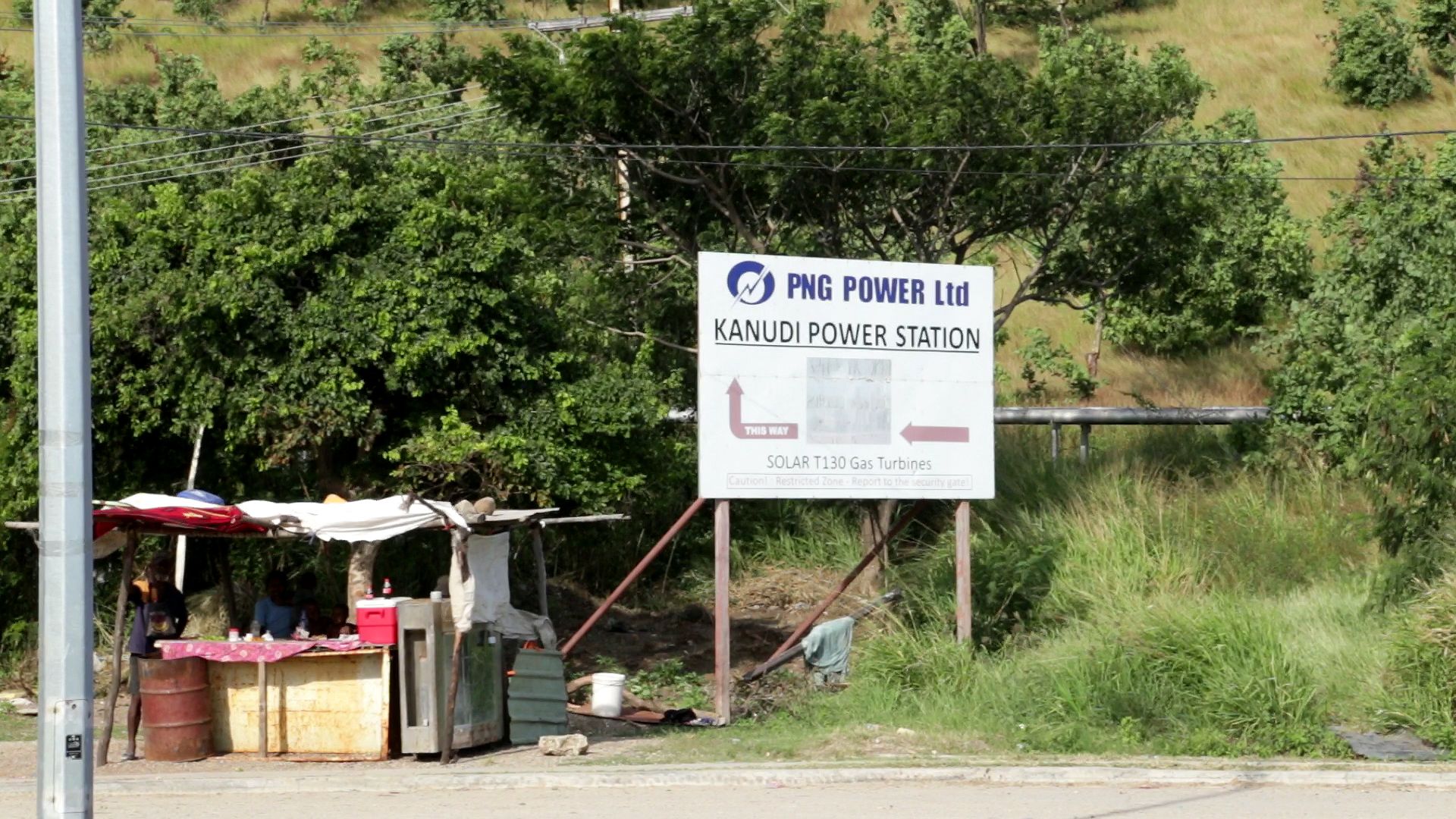 In addition, GGGI is working closely with PNG's Climate Change and Development Authority (CCDA) to develop a national green growth program and enhance access to international climate finance. To support this approach, GGGI is partnering with CCDA to deliver the Green Climate Fund's (GCF) Readiness Program. Through close consultation with CCDA, GGGI is running capacity building activities, consulting with stakeholders, and mobilizing the private sector. This approach creates the building blocks for improved climate resilience and further sustainable development within PNG.
GGGI and CCDA also conducted a Green Growth Potential Assessment for Papua New Guinea, to identify and recommend opportunities for green growth in Papua New Guinea that support the country's efforts to cope with climate change and achieve its development goals.  The assessment provided a detailed assessment of the potential for electricity generation from renewable sources in Papua New Guinea.
It is clear that PNG is committed to harnessing the full potential of its RE resources to achieve inclusive green growth, and with its international partners is realizing how sustainable green growth can be achieved.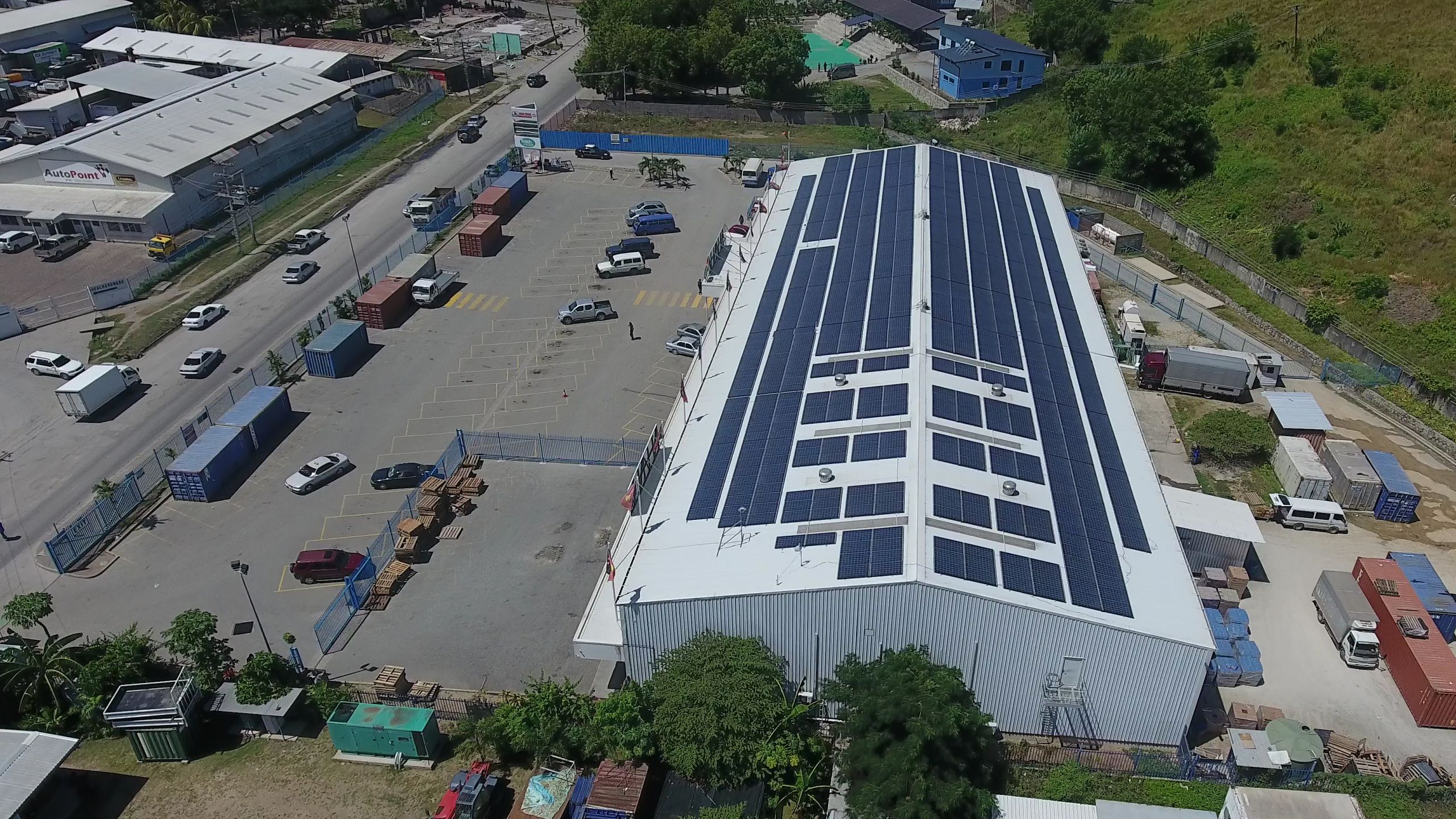 Renewable Energy Transition in Tonga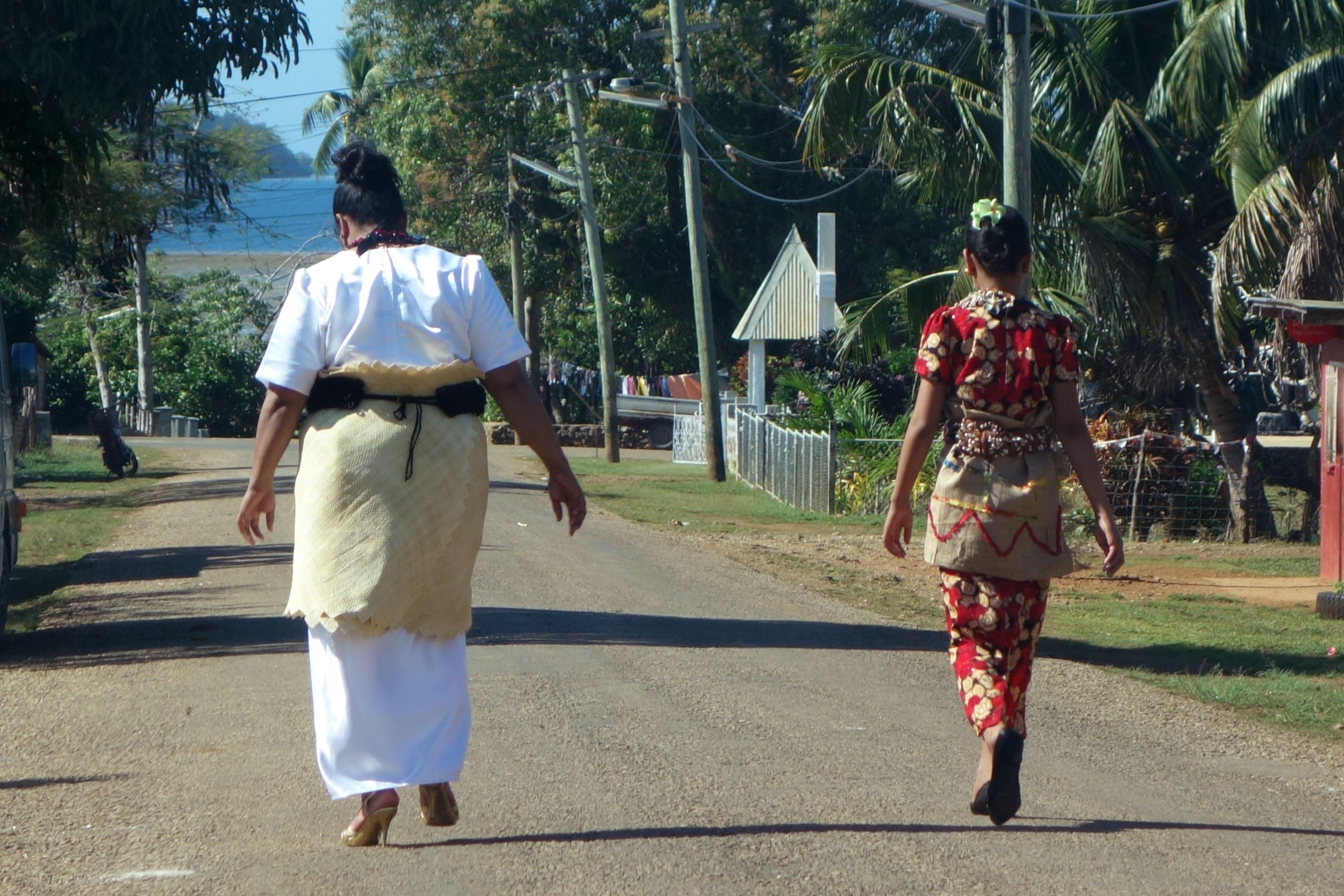 The Kingdom of Tonga is a SIDS consisting of 176 islands with a total land area of 750 square kilometers located over 700,000 square kilometers of the Pacific Ocean. The Tongan archipelago is made up of four groups of islands – Tongatapu, Ha'apai, Vava'u, and Niuas – with the capital city Nuku'alofa located on the largest island Tongatapu.  Despite the many islands in the Kingdom, only 36 are inhabited: the population of Tonga is only around 100,000 people, the majority of which (70 percent) live on Tongatapu Island.
For 20 percent of the population, subsistence agriculture is their main livelihood, but in rural areas, this proportion is much higher. Employment is dominated by agriculture, forestry, and fisheries, with agricultural exports - squash, coconuts, bananas, and vanilla beans - making up two-thirds of total exports. But Tonga's largest source of revenue is remittances from overseas income.  Due to overseas migration, there are now more Tongans living overseas than in Tonga, mostly in New Zealand, the United States of America, and Australia. With this large overseas population, these remittances make up around 30 percent of Tonga's annual GDP. After remittances, tourism is the second largest source of earnings for the Kingdom.
The impacts of climate change are already having significant economic, social, and environmental consequences for Tonga. According to the United Nations University World Risk Report 2016, Tonga is the second most at risk country in the world to natural hazards. Annual cyclones pose a severe threat to people and infrastructure in the islands. The Kingdom is also highly vulnerable to coral bleaching - associated with high ocean surface temperatures - which has impacts on marine ecology and the fisheries industry. With such a small export economy, the climate-related risks to agriculture, such as changing rainfall patterns, present a significant threat to Tonga's economic development.
Building greater resilience to the increasing risks of climate change is, therefore, essential for sustainable development in the Kingdom, and so Tonga is taking climate action seriously. The Kingdom's 2015 Nationally Determined Contribution (NDC) to the United Nations Framework Convention on Climate Change (UNFCCC) frames Tonga's climate change resilience as a cross-cutting issue. As a result, Tonga's Strategic Development Framework 2015-2025 expresses a commitment to sustainable development, as well as inclusive and equitable economic growth for Tongans.
Tonga is taking strong action on climate adaptation, participating in the Pacific Adaptation to Climate Change (PACC) program to build resilience to climate change impacts. But Tonga's commitment goes beyond just responding to the impacts of climate change. The NCD commits to reducing emissions by engaging with specific sectors, and the economy as a whole, to identify opportunities for climate change mitigation.
Energy is, therefore, an important component of Tonga's commitments to climate change mitigation and is central to building resilience to the impacts of climate change. The Tonga Energy Road Map 2010-2020 (TERM) highlights that, in 2000, 75 percent of Tonga's energy supply was from imported petroleum fuels, with the remaining 25 percent coming from biomass and off-grid solar. Grid-supplied energy accounts for 98 percent of electricity in Tonga, all of which is generated using diesel. Nearly 90 percent of households are connected to the grid, but access to affordable electricity is an issue: Tonga's reliance on imported fuels for energy means Tongans are constantly exposed to the volatility of global market fossil fuel prices.
To relieve this financial pressure and burden, Tonga must move away from reliance on fossil fuels, diversify its energy generation options, and develop renewable energy resources. Under the TERM and NDC, Tonga has committed to 50 percent renewable energy generation by 2020.  Landfill gas, biomass, wind, and solar energy have all been considered as renewable energy sources in Tonga.
To hit this ambitious target, GGGI is supporting Tonga to pursue socially inclusive green growth and build resilience to climate change. GGGI is working with the Ministry of Meteorology, Energy, Information, Disaster Management, Environment, Climate Change, and Communications (MEIDECC) to identify opportunities to build resilience in the energy, transport, and green cities sectors. The focus is on enhancing infrastructure, improving energy security, increasing renewable energy and energy efficiency technologies, and reducing dependence on fossil fuels. In consultation with MEIDECC, and the Department of Climate Change and the Department of Energy, GGGI is developing Tonga's Low Emission Development Strategy (LEDS) to achieve these goals.
Other international agencies are also working in Tonga to support renewable energy and climate change resilience. For example, UNDP and MEIDECC have undertaken community and stakeholder consultations around building coastal resilience to climate change impacts, including storm surges, cyclones, and extreme rainfall. The Pacific Community (SPC) are also engaged in Tonga through the Pacific Centre for Renewable Energy and Energy Efficiency (PCREEEE). The Asian Development Bank (ADB) is also involved in an Outer Island Renewable Energy Project to provide solar power to remote areas and build the capacity of Tonga Power Limited to implement renewable technologies.
Increasing renewable energy generation and energy efficiency is also important to build resilience to the impacts of climate change. GGGI will be assisting the Department of Energy of MEIDECC to review the TERM and develop a new energy sector road map to reach 2030. The government of the Kingdom of Tonga has expressed commitment to increasing renewable energy and pursuing sustainable development and is moving ahead through continued collaboration with international agencies to achieve these goals.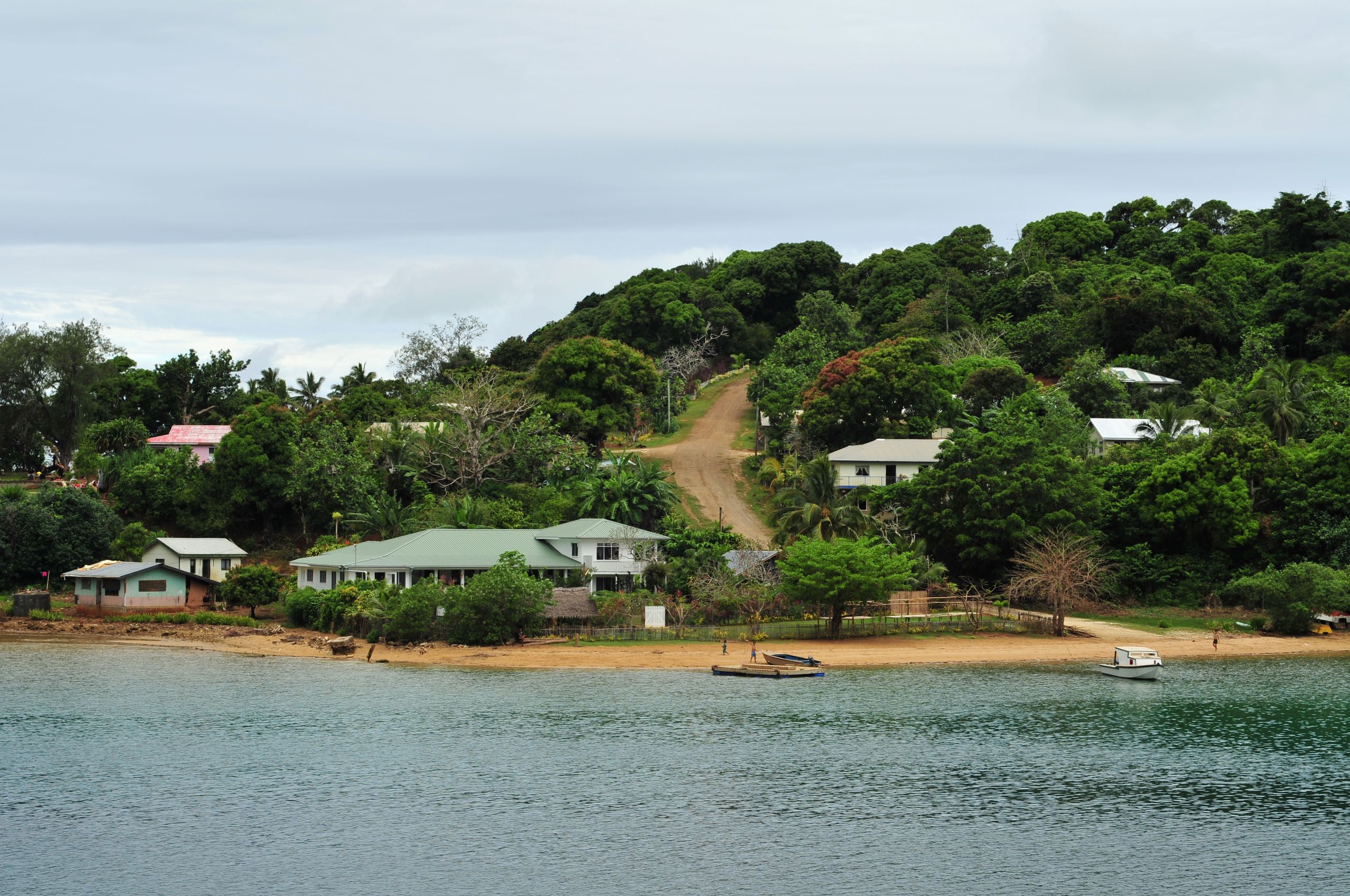 Contact Us
Katerina Syngellakis
GGGI Pacific Regional Representative
katerina.syngellakis@gggi.org